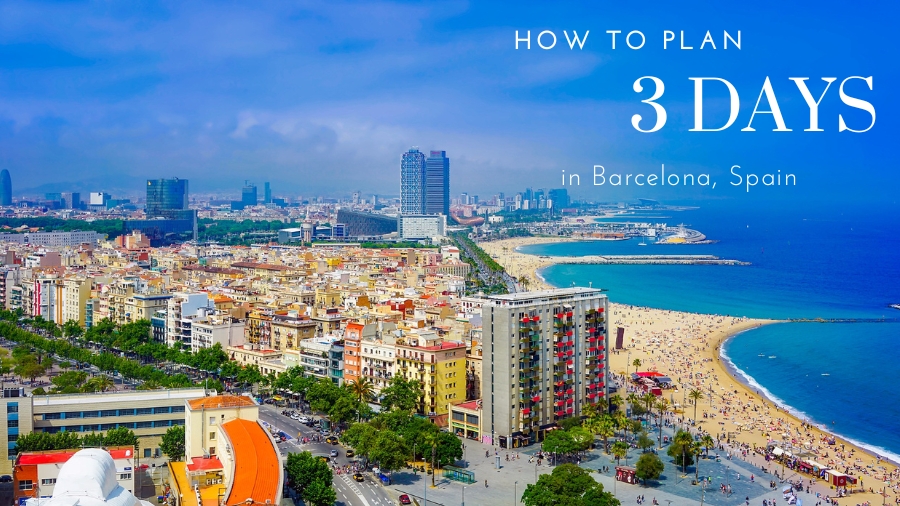 Plan 3 days in Barcelona Spain

Updated January 2023.

Expert advice and travel guide tips to plan a 3 day visit to Barcelona. Many visitors stay for 3 days and 2 nights. This is perfect number of days to see most of the top attractions in, and near, Barcelona.

If you are planning your visit to Barcelona, then you might also like to read our articles about where to stay in Barcelona and read our Barcelona 10 Ten attractions and guides to choosing Barcelona hotels or apartments.


Plan 3 days in Barcelona

We suggest the following plan for 3 days and nights in Barcelona. Scroll down the page for more detail. You can mix the 3 days in Barcelona any way you want, but keep in mind, if shopping is a important part of your vacation, that mostl Barcelona shops are closed on Sundays with the exception of Maremagnum mall in Port Vell marina and the La Roca outlet mall which is 30 minutes north of Barcelona.

In our opinion, day tours to destinations outside Barcelona are best planned during week-days. This is because there will be fewer local residents at tour destinations outside Barcelona during the week and there will be less traffic coming back to the city on week-days.

Sundays are not ideal for day tours outside Barcelona. Tour destinations, like Montserrat, can be crowded and there can be heavy traffic in the evening when local residents drive back to Barcelona.

Here is our suggestion for planning 3 days in Barcelona. More detail further down the page.



Day 1
Spend 1 day walking (or cycling) in the Barcelona's medieval city center which is called Ciutat Vella, the 'old town." The Ciutat Vella district has many neighbourshoods. Three of them are most popular to visit for their attractions and charm.

These three neighbourhoods are called El Gótico, El Born and La Barceloneta. Each has its own character and sights. El Raval is also in the Ciutat Vella and interesting to visit during the day for its 'bohemian' atmosphere but the Raval is perhaps best avoided in the late evening and early hours of morning.



Day 2
Spend 1 day exploring the sights of the newer 19th and 20th parts of Barcelona. This is a big area. The sights are spread out, so for this we recommend the Barcelona hop-on-hop-off buses. The tour buses take you all round Barcelona so you will see the 19th century modernist Eixample area, the newer 20th century Sant Marti beaches and coastline, the Les Corts area where FC Barcelona's Camp Nou football stadium and museum is located. Bus tours also visit Gaudi's famous Park Guell, the Montjuic hill fort and parks, the Tibidabo hill with the best city views and a vintage fairground and church.

The best thing in our opinion about the hop-on-hop-off tours is that you can get an impression of the entire city of Barcelona and you can take it at your own pace. There are two hop-on-hop-off bus companies in Barcelona. Both hop-on-hop-off bus services are quite similar and reliable.

Bus tours have audio guides, not human guides. Buy hop-on-hop-off tickets in advance or on the bus. If you prefer a city tour with local guides, then search for private guides or book places on small group group tours of Barcelona on tour booking sites like GetyourGuide. GetyourGuide is a usefull app that offers tickets and tours in one place, so you don't have to juggle printouts and websites. GetyourGuide lists a wide variety of Barcelona tours from many different tour companies.

This article continues below ads



Day 3
Spend 1 day or half a day outside Barcelona on a day tour excursion to destinations outside Barcelona. There are many scenic and historic places near Barcelona, like a half-day tour to Montserrat monastery and mountain - or to medieval Girona - or to a winery in the Penedes region. Or you can even visit France and Andorra from Barcelona.

There are many tour companies that offer tours and it can be very difficult to decide which to choose. The Internet and Youtube are full of travel blogs and video but there are so many that it takes longer to trawl through them than you will spend on your vacation.

To help you save time if you are looking for a small group tour company, then we can recommend one of our partners DayTripsBarcelona.com - they are a family company who have specialised in tours outside the city for very small groups and with a personal pick-up at your hotel or apartment.

For larger groups you can find many great tours on Barcelona Tourist Office visitor BCNshop and Viator

You can mix the three days anyway you want. Barcelona shops are usually closed on Sundays (except some Sundays in July and August) so a walking day in the old city will be more fun on any day, except Sunday. For excursions and day tours outside Barcelona try to avoid the weekends, because many local residents leave Barcelona for the weekend, so beaches and towns outside Barcelona are more crowded and there is usually heavy traffic coming back to the city on Sunday evening.

Most of the Barcelona attractions and things to see are in three districts of Barcelona, which you can see on the map below. For the best places to stay in Barcelona see our best Barcelona area to stay guide and check out our Barcelona practical tips page

Ciutat Vella, which means 'the old city' in the Catalan language, is the oldest district of Barcelona. This is where the city was founded as the Roman city of Barcino and where later the medieval city sprang up.

In the 19th century the Eixample district - which means 'extension' in the Catalan language - was developed after the old medieval city became to overcrowded and the walls came down. Eixample is the area where you can find most of the famous 19th and early 20th century modernist buildings.

Sant Marti is the former industrial area that has now been redeveloped with beaches, modern hotels, business and residential areas.

Sant Marti was formerly the industrial area of Barcelona, but has been modernised since the Olympics in 1992 with modern neighbourhoods including the Olympic village and some very nice beaches and beachfront restaurants and cafes.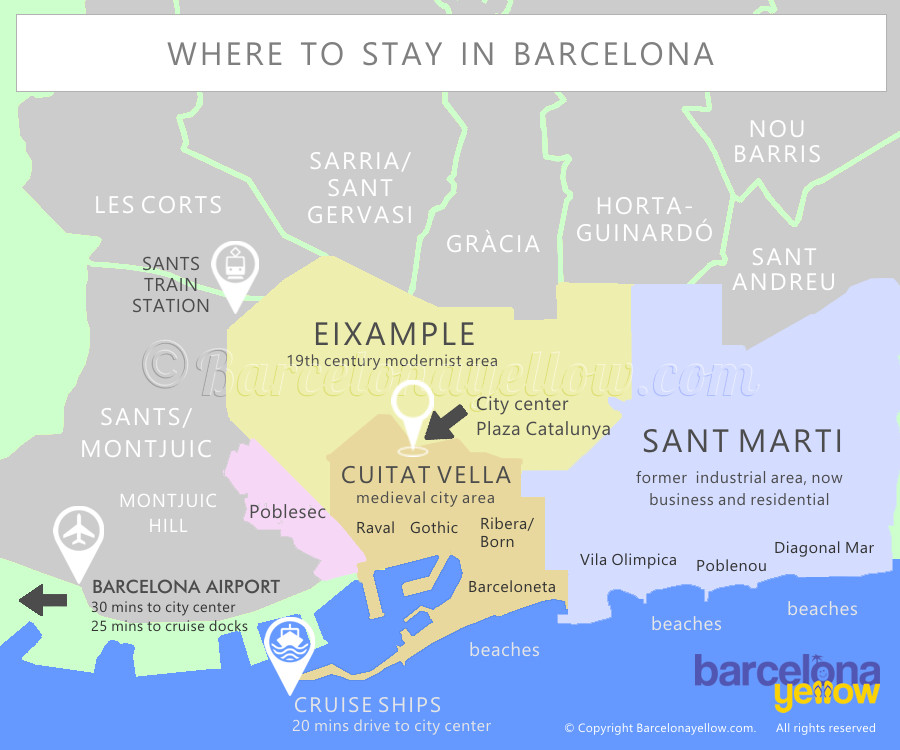 Take a closer look at the satellite map of part of Barcelona below. You will notice that the old city centre of Barcelona has many narrow winding streets. That is the 'Ciutat Vella' - the old city of Barcelona dating back to the middle ages.

Because of the narrow streets, the tourist hop-on-hop-off buses don't go into the old parts of Barcelona. The hop-on-hop-off buses only stop on wide roads on the edges of the old city, so this part of the city is absolutely best explored on foot or on bicycle.

The Ciutat Vella consists of several neighbourhoods. The most central one is 'El Gotico.' This is the gothic quarter, which expanded around the original Roman city of Barcelona called 'Barcino.' You can still see parts of Barcelona Roman walls and if you look closely at the map of the gothic area of Barcelona, you can still make out the outline of the old Roman city of Barcelona.

The modernist Eixample district, which means extension in the Catalan language, is outside and around the old city of Barcelona. This is the newer part of Barcelona which was built in the late 19th century. Read how Barcelona's Eixample area was created. There are many interesting tourist attractions to see in the Eixample area and they are best seen from the Hop-on-hop-off buses.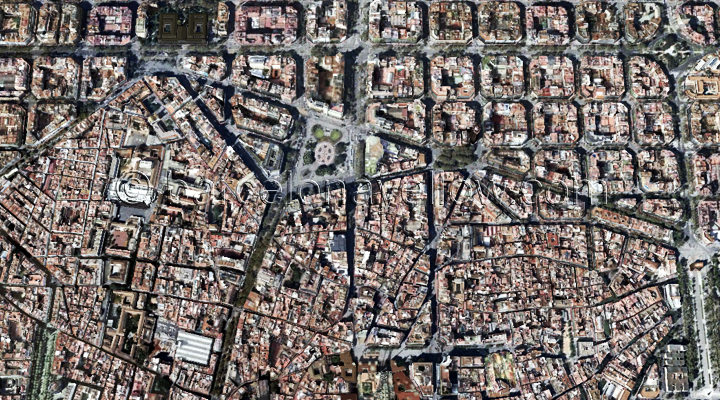 Day 1 in Barcelona
Walk round Barcelona's old Ciutat Vella areas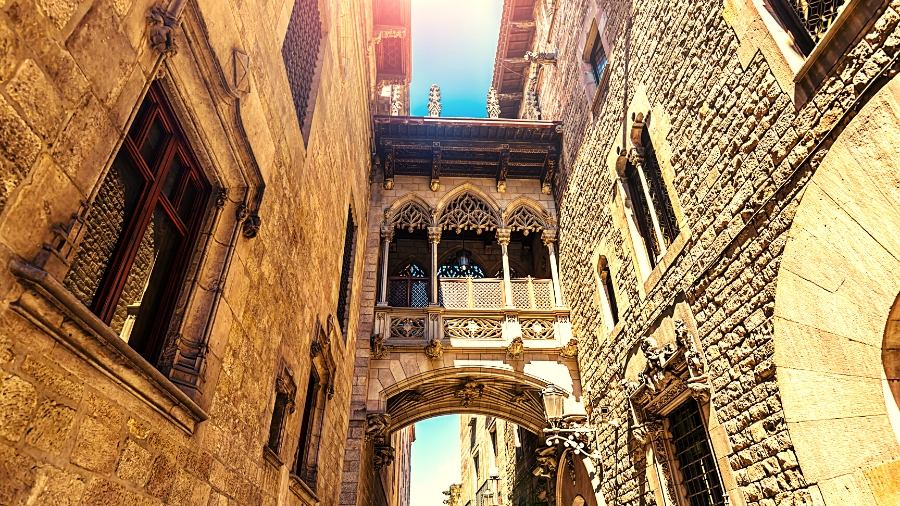 Narrow streets of Barcelona's el Gotic gothic quarter

The Ciutat Vella, which means 'old city' in the Catalan language, is one of the biggest medievel city areas in Europe. It includes the five neighbourhoods of La Raval, Barri Gotic, La Ribera / El Born and Barceloneta.

You can spend 1 day walking or bicycling around the three most interesting neighbourhoods of the old city which are called El Gótico, El Born and Barceloneta, The pedestrian boulevard Las Ramblas cuts through the old city of Barcelona and should not be missed either.

If you don't have a full day then start at Las Ramblas street and focus mostly on the Gothic part of the old city, which has the most historic sites in the old city. The gothic area is almost the most central because it grew around the Roman city of Barcelona called Barcino. You can still see parts of the Roman walls and four Roman temple columns in the gothic area of Barcelona.

Other sights of interest in the Gothic area things to see are Las Ramblas street, Barcelona cathedral and the square Plaça Reial. Then head over to the Born/Ribera part of the old city, which has some lovely medieval streets, trendy small boutiques and cafes, and two big Barcelona attractions, which are the Picasso museum and famous gothic Santa Maria del Mar church.

Then if you have time and want a lovely walk with harbour and sea views, stroll down to Barceloneta which is the old fisherman's quarter in Barcelona, which borders on Barcelona's beaches.

Picures gothic quarter
Pictures Las Ramblas street



Day 2 in Barcelona
See Modernist sights of Barcelona on hop-on-hop-off tourist bus
1 day on the hop-on-hop-off buses exploring the areas outside the old city including the Eixample area, Sant Marti, Les Corts, Montjuic hill and Tibidabo hill
Tickets Barcelona hop-on-hop-off buses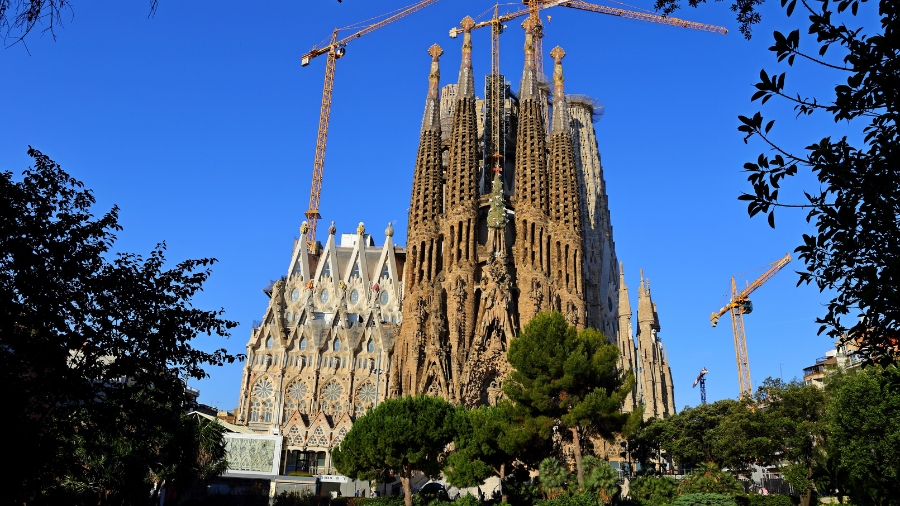 Barcelona's famous unfinished church by Antoni Gaudi - La Sagrada Familia is in 19th century Eixample area. The Eixample is the area developed in Barcelona when the middle age city became too overcrowded.

In the late 19th century the old medieval city walls were pulled down and a new part of the city called the Eixample was developed around the old city. The Eixample is where you will find most of the famous modernist buildings that Barcelona with one notable exception which is the Palau Guell by Gaudi in the Raval area of the old city.

But most of the modernist architecture is in the newer areas of Barcelona and is best seen on a hop-on-hop-off tour, which will take you along the elegant shopping street Passeig de Gracia past Gaudi's Casa Mila and Casa Batllo, also to Sagrada Familia church and past FC Barcelona's famous football stadium Camp Nou.

There are several routes on the hop-on-hop-off buses and you can also go as far as the hills overlooking Barcelona which are Montjuic hill and Tibidabo.

The hop-on-hop-off buses also visit Plaza Espanya where you can see the famous Magic Fountain but this is best enjoyed at night when you can see the fantastic Magic Fountain light and music show.

Sant Marti is the district of Barcelona that is on the coastline of the city. Prior to the 1992 Barcelona Olympics Sant Marti was the industrial area of Barcelona and called the "Manchester of Barcelona." For the Olympic games the area started a process of transformation that now has turned it into a new residential and business area of Barcelona.

Sant Marti is somewhat off-centre, but is well connected to the city centre and the big attraction of the Sant Marti area is the close proximity to the beaches. The hop-on-hop-off buses will take your past this area, but apart from the beaches there are no major sights.

This article continues below ads



Day 3 in Barcelona
See attractions outside Barcelona on a Day Tour
1 day or half a day outside Barcelona on a day or half day group tour or small group tour.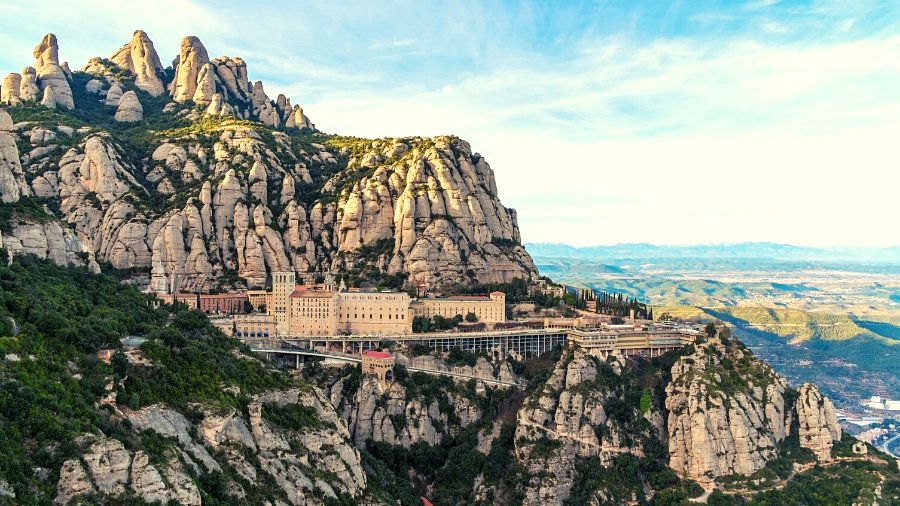 Don't miss a visit to Montserrat Mountain - a UNESCO world heritage site close to Barcelona

Barcelona is a bustling, vibrant and cosmopolitan city. It can also be noisy, busy and hot, especially in the summer. So for Day 3 we recommend that you get out of the city and book a tour to one of the many beautiful spots, which are just one or two hours from Barcelona.

There are many top class attractions outside Barcelona and you can choose between a wide variety of wonderful and interesting day tours from Barcelona to popular attractions like the Costa Brava beaches and coast area, Montserrat mountain and monastery, seaside village Sitges, Roman city of Tarragona, Girona - the city of sieges, world famous vineyards of the Penedes region, the pre-pyrenees and Pyrenees mountains and much more.

Here are some more ideas for popular day tours from Barcelona. You can reach some of them by the high-speed AVE train, by regular train, by regional bus or if you want to avoide the hassle of planning and cut travel time then book a small group private day tour.

If you have a few days in Barcelona, then don't miss an opportunity to visit some of these lovely spots near Barcelona. We can recommend on of our partners DayTripsBarcelona.com who only offer tours outside the city for very small groups and with a personal pick-up.

When is best time to visit Barcelona?
Related pages

Planning 2 day visit Barcelona
Where to stay Barcelona
Cruise ship maps and guides
Top 10 attractions
Guide Museums
Tours & Tickets
Best Day tours outside Barcelona
Barcelona beaches


© Copyright Barcelonayellow.com.
Do not copy from this page without permission
All rights reserved