Grandvalira ski area Andorra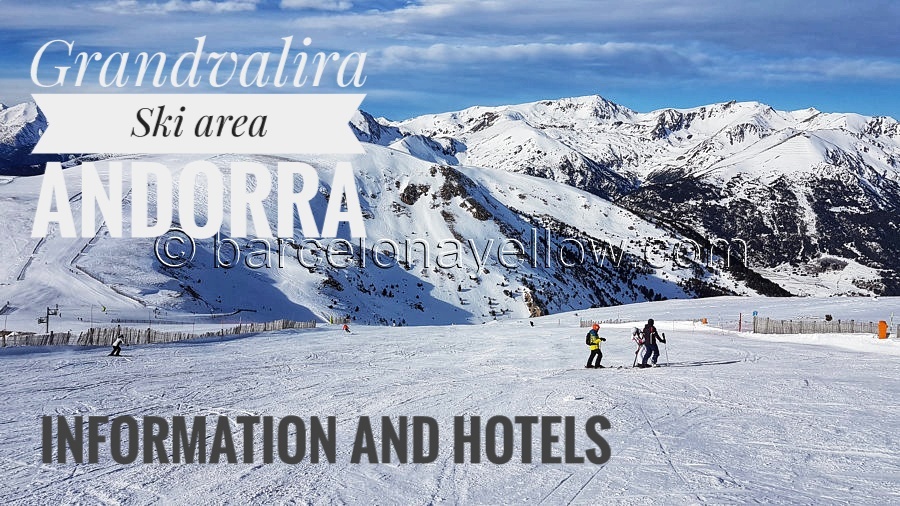 Grandvalira ski area Andorra

updated February 2023

Grandvalira Andorra ski resort is the biggest Andorra ski area and the largest skiable area in the Pyrenees mountains and southern Europe with a total of 210 km across 112 slopes covered by one ski pass for all sectors.

In mid January 2019 there was a large snowfall in the Catalan and Andorran Pyrenees and All ski resorts in Andorra and Catalan/Spanish Pyrenees ountains are open

The higher altitude resorts like Grandvalira still have good snow conditions in some sectors.

There has been little snow since then. From mid February the weather was warmer than usual, so lower altitude ski parts of Grandvalira need more snow.

Grandvalira is wonderful choice for great skiing in the Andorran Pyrenees mountains near Barcelona in Spain and near Toulouse in France.

Grandvalira hotel deals 2023
Grandvalira webcams

Grandvalira has 70 lifts servicing 18 green pistes, 38 blue, 32 red and 22 black pistes bring the total to 110 pistes on a skiable area of 210 km.

Grandvalira is the name of the ski area in Andorra, not the name of a ski village. There are various sectors of Grandvalira and Grandvalira has several villages where you can stay for skiing in the Grandvalira area.
¨

Snow report Grandvalira.
Still good snow in for February 2023. Check Twitter Grandvalira for latest snow news and check the snow report and finde snow reports, weather forecasts and webcam pages below

Instagram Grandvalira
Piste report Grandvalira
Webcams Grandvalira
Weather forecast Grandvalira
Grandvalira pistemap PDF
Grandvalira 3D piste map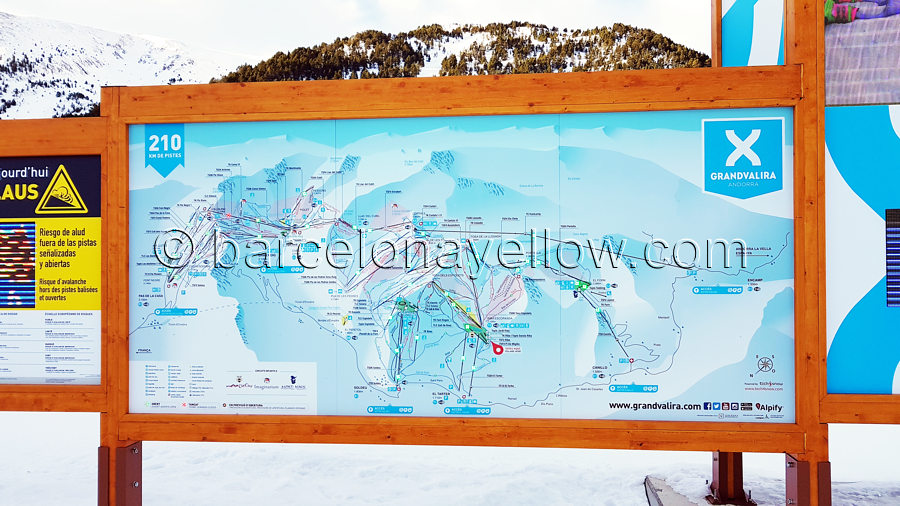 Andorra is a tiny country - one of six microstates in Europe - and is entirely situated in the eastern Pyrenees mountains on the border of France and Spain. Andorra has two big ski areas called Grandvalira and Vallnord.

Both these ski areas were created by combining a number of smaller and previously unconnected Andorran ski villages and ski areas. Today Andorra has one of the biggest combined ski areas in Europe and is just a 3 hour drive north west from Barcelona in Spain.

Skiing is not an activity that you can enjoy once. In fact on the first day of learning to ski you will probably not enjoy it that much as you will be falling most of the time. So if you want to try skiing we recommend that you go for a multiple day ski trip and include beginners ski classes. Grandvalira in Andorra is perfect for beginners with many beginners slopes and facilitites, especially for children.

If you are in Barcelona and just want to see snow for the first time perhaps in your life, then you could book a Snow day tour from Barcelona to the Pyrenees mountains. Our partner DayTripsBarcelona offers a 1 day snow day tour with fun activities to choose from in the snow in Andorra. For skiers above beginners level they also offer a day tour of skiing or snowboarding in Andorra from Barcelona.

Hotels Grandvalira Andorra
Andorra Snow day from Barcelona
Pictures Grandvalira Andorra
Address maps Grandvalira ski resort


Skiing in Andorra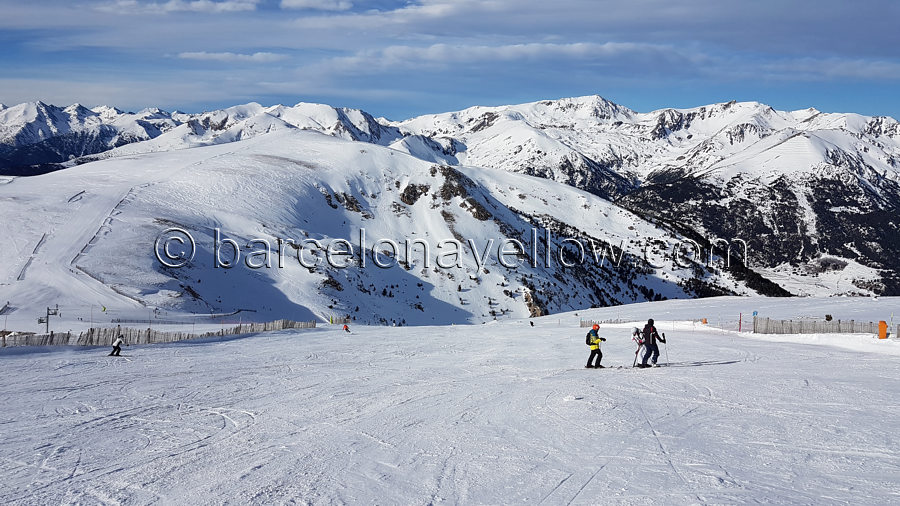 Andorra has two big skiing areas called Grandvalira and Vallnord. In recent years Andorra has invested in modern lifts and new facilities making this tiny country a great alternative to the Alps and a very popular skiing area near Barcelona.

A big difference between Grandvalira and many ski resorts in the Alps is the size of the lift queues. Even at the weekend you can often ski for hours in Andorra without having to queue for more than a few minutes. Grandvalira Andorra will undoubtedly grow in popularity in the coming years and is ready in every way to cater for many more guests.

Of the two large ski areas in Andorra, Grandvalira is the biggest ski area and also one of the largest ski areas in the Pyrenees with 205 kilometers of pistes with 70 lifts servicing 110 ski slopes.

Grandvalira also boasts the longest ski trail in the Pyrenees of 9.6 km with a vertical drop of 850m from Tosa de Llosada in the El Tarter sector at an altitude of 2,560 m down to the village of El Tarter at 1,710 m. The six ski areas in Andorra that are connected to form the Grandvalira ski area are called Pas de la Casa, Grau Roig, Soldeu, El Tarter, Canillo and Encamp.

The lowest of the five villages is Encamp at 1300m above sea level, and the highest village is Pas de la Casa at 2100 m. Most of the mountain peaks in the Grandvalira area reach an altitude of 2500 metres, so many runs are long and wide with spectacular mountain views. Ski resorts at this altitude are almost guaranteed snow from December to April.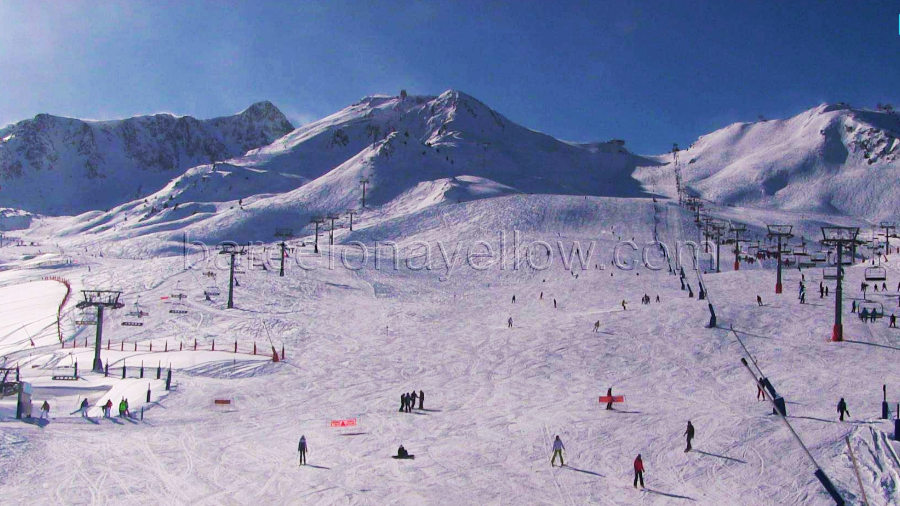 All the Grandvalira ski sections are seamlessly connected by a modern express lift system to give you over 200 kilometres of alpine pistes.

Grandvalira can definately compete with Europe's top ski resorts and is among the top twenty ski resorts in the world.The 110 pistes include 22 black runs and 32 red runs and many wide and inviting blue and green runs.

Almost all runs are above the tree line. Many of the slopes have skiable freeride areas near the many prepared pistes, so the off-piste and freeriding possibilities are big and easily accessible, even to beginners. The Grandvalira area also offers 3 snowboard/freestyle parks and many exciting activities near the pistes.

In the Soldeu and El Tarter basins you can enjoy trying or watching Audi 4-wheel drive cars accelarate up a steep mountain car piste, or 4-wheel drive buggies doing tight turns in the snow. Other activities at Grandvalira include dog-sledging, snow scooters, ice scuba diving, freestyle parks, speed skiing courses, mogul pistes and more.

The skiing in the Grandvalira area is comfortably varied. There are relaxed family runs in the Soldau area, and steeper and more challenging slopes over towards Pas de la Casa. There are red and black runs across the whole area and with fast lifts you can quickly ski to your favourite slopes. There are five freeride off-piste areas in Grandvalira.

Three of the freeride areas - Canal de Encampadana - Canal de Les Solanelles - Bosc del Commellar - are accessible from the Encampadana ski lift in the El Tarter sector. In the Grau Roig sector there is a freeride area from the drag lift TK Pic Blanc and in the Canillo sector there are several freeride areas.

Andorra's main revenue comes from the 10 million tourists that visit Andorra every year and Andorra is careful to re-invest some of that tourist income on the ski slopes to make sure the skiers and snowboarders keep coming. The lift system is new and fast and offers both express chair lifts and 4 person gondola cabin lifts.

The longest gondola lift is called Funicamp. It's an impressive 6.2 km ride from the village of Encamp to the heart of the Grandvalira ski area making it one of the longest gondola lifts in Europe.

All the restaurants in the Grandvalira area are modern and functional with both fast food and a la carte choices and stunning views. The quality is good and prices are reasonable. Andorra is not in the EU and has yet to pass any serious smoking laws. But it appears that a number of restaurants and other public areas are starting to impose non-smoking areas – or prohibit smoking indoors altogether. But this is still on a voluntary basis and you will probably at some stage during your stay see people smoking in places that are now banned in the rest of Europe.

Where to stay in Grandvalira?

The fashionable areas to stay are Soldeu and El Tarter villages. The biggest and oldest ski village in Andorra is Pas de la Casa, which is also popular because of many nice pistes and its high altitude. Smaller villages like Canillo and Encamp are at a lower elevation and perfect for families. Grau Roig is a base station, not a village. It only has one hotel, which makes it a bit isolated but also undisturbed and the hotel at Grau Roig is excellent.

Hotels Grandvalira Andorra


Open FULLSCREEN version of this map

Hotels in Grandvalira ski sectors

Hotels in Grandvalira sector Pas de la Casa
Hotels in Grandvalira sector Canillo
Hotels in Grandvalira sector El Tarter
Hotels in Grandvalira sector Soldeu
Hotels in Grandvalira sector Encamp
Hotels in Grandvalira sector Grau Roig

Grau Roig sector of Grandvalira
Grau Roig is a small ski station in the Grandvalira area that connects the Pas de la Casa sector with the Soldeu sector and the rest of the Grandvalira ski area. If you are driving up to Grandvalira from Barcelona, then Grau Roig is an excellent base camp choice because of the two big free car parks and many fast chairlifts. The ski lifts go in two directions with most heading up towards Coll Blanc peak overlooking Pas de la Casa sector and town, but you can also take a chair lift in the opposite direction towards the Soldeu and El Tarter ski areas.

The Grau Roig sector offers skiing for all levels, including various black runs, lots of long red runs and some blue runs. There is a ski school area by the parking place and a freestyle park. In addition there is a good deal of off-piste or freeride skiing that can be enjoyed by everyone, as the many freeride slopes are mostly next to the marked pistes. Grau Roig is also the starting point for a number of alternative winter sport activities including snow scooter tours, snowshoe walking tours, sledge rides and mushing.

Please note that Grau Roig is not actually a town or resort, but there is one hotel, aptly named Hotel Grau Roig, and an very well stocked ski shop where you can rent skis. If you need to rent skis at Grau Roig, then a good tip is to come a little early, as there can be queues for renting skis in the morning. You can buy ski passes for the whole area at the ticket office, making Grau Roig an excellent base camp choice for people coming for day trips to the Grandvalira ski area – or if you are staying in hotels outside the Grandvalira ski area. To get to Grau Roig keep driving towards Soldeu when you get to Pas de le Casa.

The fastest way to to take the 3 km tunnel called "Tunel D'Envalira" which takes you almost directly through the mountain from Pas de la Casa to Grau Roig with a toll charge of just over 6 Euro. This money is well spent if it is snowing or has just snowed. The alternative is the long and windy route almost 10km over the mountain which is cheaper and has great mountain pass views so it's worth the extra kilometres on a sunny day but in bad weather you will need a 4-wheel drive or snow chains to make this journey.

Grandvalira Igloo Hotel
If you want a real ski-in-ski-out experience, then consider a stay at the theGrandvalira Igloo Hotel at 2300m altitude. The Igloo hotel is a collection of igloos made entirely of ice and snow in the Grau Roig sector of Grandvalira has three rooms to choose from. The standard room sleeps a maximum of six people and is ideal for groups of friends keen to try a really different experience and two double rooms for couples looking for a romantic and different experience. All comforts and conveniences are provided with decoration inspired by Romanesque art and featuring ice sculptures. Some facitlities of the Igloo Hotel are open to the public inlcuding a restaurant area that serves fondue dinners and lounge terrace with chill-out music. Facilities include a guided night walk with snowshoes, a hot-tub jacuzzi also inside an igloo. Guests are given a warm sleeping bags

Useful information Grandvalira ski area

Lift opening times
Lifts open at 09:00 and close at 17:00.
Please check the times of the last lifts you will need to get back to your sector.

Emergency numbers
+376872900 Encamp - Grau Roig - Pas de la Casa
+376890500 Canillo - El Tarter - Soldeu

Information telephone numbers
+376 891 818 in Andorra
+34 902550435 in Spain

FIS ski slopes in Grandvalira
Antenes slope in Grau Roig sector
Avet slope in Soldeu sector

Nursery/crèche/kindergartens
Grandvalira has 4 crèches with qualified carers for children from 12 months to 4 years. They are in Canillo, El Tarter, Soldeu and Grau Roig. Please note that the kindergartens at Soldeu, El Tarter and Canillo only accept children over 24 months old. Children from 12 to 24 months old should go to the Grau Roig kindergarten. Prices and information

Book Andorra Snow day from Barcelona
Book 1 day ski trips to Grandvalira from Barcelona
Photos Grandvalira ski area Andorra
How to get to Grandvalira ski resort
Ski and snowboard areas near Barcelona

© Copyright Barcelonayellow.com.
Do not copy any text on this page without permission
All rights reserved




Last Updated on Saturday, 04 February 2023 11:33