Baqueira-Beret ski resort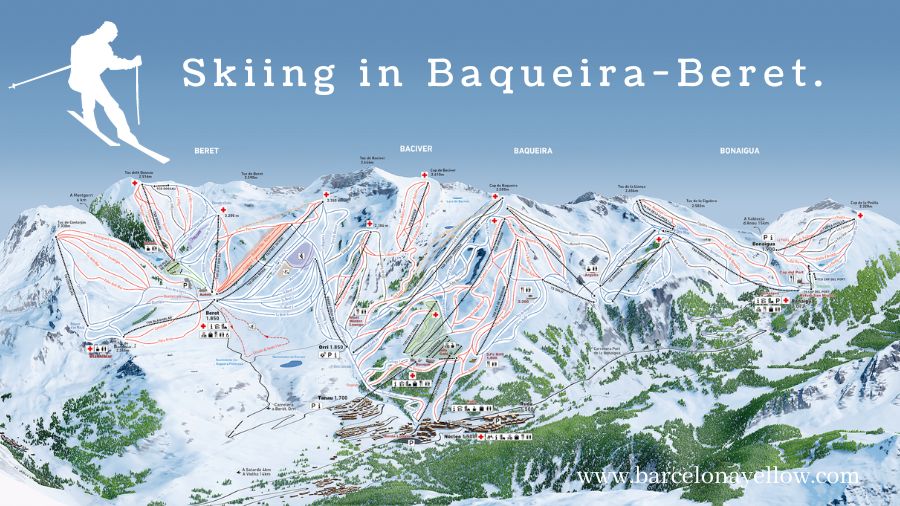 Baqueira-Beret ski resort near Barcelona
Guide to skiing in Baqueira-Beret and best hotels in Baqueira-Beret.


Updated March 2017



Baqueira-Beret ski resort is Spain's most fashionable ski resort with the biggest ski area and often the best snow conditions. Baqueira-Beret is located in the Pyrenees mountains in the north western corner of the Spanish province of Catalunya and enjoys fantastic snowfall due to it's high altitude location in the Val d'Aran which is the only Atlantic facing valley in the Spanish and Catalan Pyrenees mountains.

This means that Baqueira-Beret offers consistently superb skiing at a high altitude area with over 120km and 33 lifts.

The most popular hotels in Baqueria-Beret are the Hotel Val de Neu, the La Pleta hotel, the AC Baqueira Ski Resort, the Hotel Montarto, the Hotel Chalet Bassibe and the Tuc Blanc to name a few. Find all best hotels in Baqueira here and book the best Baqueira apartments.

Tip! When you are booking hotels in Baqueira be sure to check if they are in the resort itself and walking distance to a ski-lift if you don't have a car. For weekend skiers driving up from Barcelona often it is often a bit cheaper to book hotels in villages near Baqueira and then drive to the ski-lifts in the morning.

If you are coming from Barcelona, then Baqueira-Beret is the furthest ski resort from Barcelona with a driving time of around 3.5 to 4 hours to cover the 300 kilometres from Barcelona. This makes it too far away for day trips but for a weekend of skiing or a longer ski break then Baqueira-Beret is among the best in Europe for many reasons.
Best Hotels in Baqueira, Spain
Best Apartments, Baqueira, Spain
Pictures Baqueira-Beret ski resort
Webcams Baqueira-Beret
Snow report Baqueira-Beret

The village of Baqueira is 1500 metres above sea level. High-speed modern lifts take you up another 1000 meters to over 2500 metres on six mountain peaks and ridges. Baqueira-Beret's Atlantic facing location that high in the Pyrenees mountains means that Baqueira-Beret usually has consistent and heavy snowfall throughout the season.

You can often find two to three metres at Baquira, when other ski resorts closer to Barcelona in Andorra or in the Cerdanya Valley have to make extra artificial snow. The amount of snow at Baqueira-Beret means excellent skiing of course, but remember check the weather forecast and pack snow-chains if the forecast is snow. The resort consists of three connected areas; Baqueira, Beret and Bonaigua.

If you are staying in one of the villages outside Baqueira towards Vielha, then a good tip is to take a left turn just as you come in to Baqueira and take the 10 minute extra drive up to the Orri or Beret parking places. Beret is not really a village, but just an very big parking place and ski-station located in the valley at 1850 metres above sea level with restaurants and ski-lifts to take you up into the Beret area of Baquiera-Beret.

In the Beret sector you can find hours of skiing for all levels with excellent beginner and intermediate runs as well as a few more challenging black runs off the top of the 2516m summit of Tuc Deth Dossau peak. If you want to base yourself between Baquiera and Beret, then park at the Orri parking place just before Beret, which gives you a choice of chair lifts to either Beret or Baqueira slopes.

The lifts from Baqueira village take you up to the top of the Cap de Baqueira mountain that offers more challenge for intermediate and expert skiers with a good variety of red and black runs to choose from. From here you can ski west over towards Beret or east towards Bonaigua.

The entire area of Baqueira-Beret has an abundance of off-piste or free-ride ranging from very easy right beside the pistes to very difficult. Many of the free-ride areas are visible from the pistes and lifts, providing exciting entertainment for those who prefer to stick to the pistes. The Beret area also has a wonderful nordic skiing circuit of 7km called Circuito de Fondo.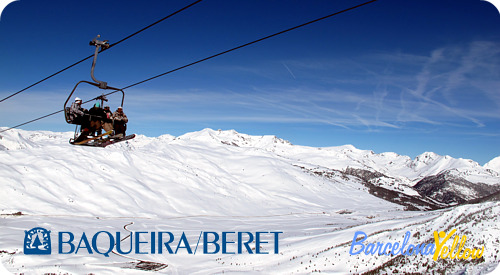 Most of the Baqueira-Beret lifts are express chairlifts, but there are still some slower three and four person chair lifts in operation. No doubt these will be replaced in the coming years. There can be slight queues on connecting lifts, but usually only a five or ten minute wait.

Baqueira-Beret is very trendy resort which attracts both the Spanish and international jetset including the Spanish royals. This means that prices are high by Spanish standards, but it's still good value compared to resorts in the Alps. Like many Spanish ski resorts Apres ski is more subdued than the Alps, partly because there is less drinking and partly because many visitors choose to stay in one of the cosy old villages many of them with lovely Romanesque churches, like Salardú, that line the valley road between Baqueira and the town of Vielha. Many also stay in Vielha itself, which is quite a large town located 14 km down the valley from Baqueira with many hotels to choose from making it a good base for skiing in Baqueira-Beret.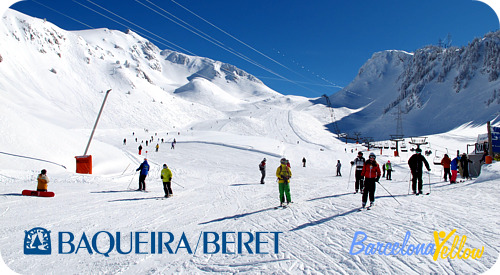 If you are driving up from the town of Sort then you can reach Baqueira-Beret from the opposite end of the valley – coming in past the Bonaigua station. But if there has been recent snowfall then you risk that the road from Bonaigua to Baqueira could be closed either due to snowfall or avalanche risk. You can park your car at Bonaigua and ski the whole area from there, but be aware that there are no ski rental facilities at Bonaigua and the parking place is not very big. And if the road is closed and you have hotel reservations in Baqueira or further down the valley, you will have no option but to drive the long way round, through Sort and El Pont del Suert and up to Vielha - a journey of around 3 hours.
Saturdays and Sundays are naturally the busiest at Baqueira-Beret with people driving up from Barcelona for the weekend, but the area is so large that even then the pistes do not feel overcrowded.
Best Hotels in Baqueira, Spain
Best Apartments, Baqueira, Spain
Hotel Val de Neu,
La Pleta hotel
AC Baqueira Ski Resort - ski to door
Hotel Montarto
Hotel Tuc Blanc
Hotel Chalet Bassibe
Hotel Mauberme in Salardu near Baqueira
Hotel & Spa Casa Irene in Arties near Baqueira
Hotels in Vielha near Baqueira
Driving time and distance from Barcelona to Baqueira-Beret
Distance from Barcelona: 329km. Driving time: 4 hours without stops
Google maps route Barcelona - Baquiera-Beret

Google maps Barcelona to Baqueira fastest routes
Related pages
Ski resorts near Barcelona
Grandvalira ski resort in Andorra
Masella ski station near Barcelona
La Molina ski station near Barcelona
© Copyright Barcelonayellow.com.
Do not copy from this page without permission
All rights reserved
Last Updated on Friday, 03 March 2017 14:50