Best Day Tours from Barcelona. Best tours outside Barcelona
Best Day Tours from Barcelona

Which are the best places to visit on tours outside Barcelona? Barcelona has a lot to offer but there is even more outside Barcelona and many wonderful sights can been seen on half-day or full day tours from Barcelona. You can rent a car or take a train or bus and go yourself. On this page we have listed some the most popular day trips outside Barcelona.

The biggest attraction near Barcelona is the Montserrat mountain which is home to the Montserrat Abbey and Black Virgin of Montserrat. Montserrat is 1 hour from Barcelona. Montserrat welcomes around 2 million visitors a year. Next is the city of Girona which is popular for its medieval gothic center, Roman past, Jewish quarter and filming locations from hit TV show Game of Thrones series 6.

If you really love Roman history, then head to the Roman city of Tarraco modern day Tarragona to see the remains of Roman amphitheatre and chariot racing circus. Also popular is the Costa Brava coastline. are among the popular Day Trips from Barcelona. And if you have never seen snow or mountains, then head for the Pyrenees mountains and tiny micro-state of Andorra.

Scroll down the page to see our tips for Best day tours from Barcelona:

Montserrat mountain and Montserrat Abbey
Costa Brava coastline, villages and beaches
Dali museums in Figueres, Portlligat and Pubol
Penedes wine and cava region
Priorat wine region
Sitges charming seaside village
Andorra and Pyrenees mountains
Tarragona Roman ruins and medieval quarter
Girona with ancient Jewish quarter & Game of Thrones locations

All this and more can be seen on half-day or full day tours from Barcelona. Most attractions outside Barcelona can easily be reached by the high-speed AVE train, by regular train, by regional bus - or if you want to avoid the hassle of planning and want to cut down travel time, then many companies offers day tours from Barcelona and small group day tours from Barcelona.


1. Montserrat mountain & Virgin of Montserrat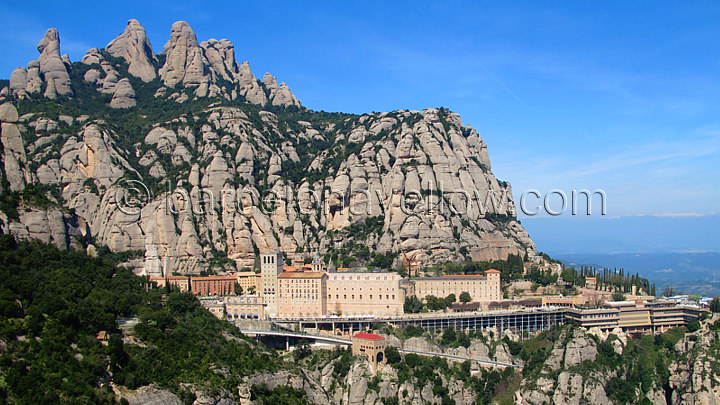 Montserrat mountain and Montserrat Abbey is a world class tourist attraction and an area of great natural beauty and spirituality very close to Barcelona. See the unique rock formations of Montserrat. Take mountain trains and enjoy beautiful views stretching to the Pyrenees mountains and the Mediterranean sea. Visit the Monserrat monastery and basilica which has a thousand years of history. Perfect for day tours and half-day tours. Montserrat monastery is also a key location in the bestselling author Dan Brown's new book 'Origin' which was published October 2017.

Half-day tour to Montserrat from Barcelona
Montserrat & Torres Winery Day Tour
About Montserrat mountain
Pictures Montserrat mountain
Go to Montserrat mountain yourself by train (combo tickets)



2. Girona - City of Sieges & Game of Thrones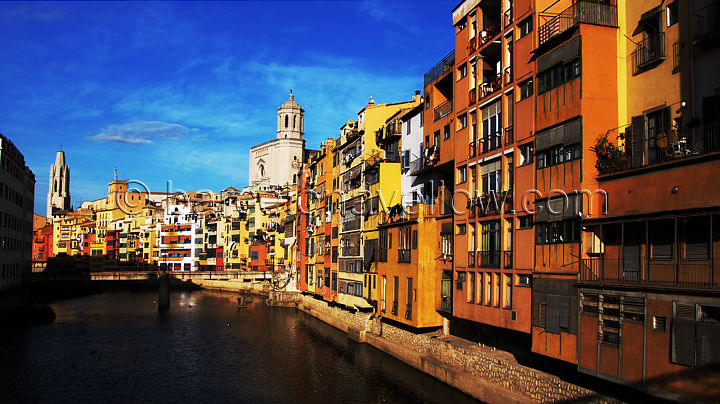 Girona - City of Sieges & Game of Thrones. Girona is a historic jewel just over an hour north of Barcelona full of legend and beautry. No wonder it was chosen as a location for popular TV show Games of Thrones series 6. Girona is famous for its colourful hanging houses over the River Onyar, for the well preserved medieval Jewish quarter and for the walled Old Quarter (Barri Vell) with its dramatic history dating back to Roman times.

About Girona
Photo gallery Girona, Spain
Small group tour Girona and Costa Brava from Barcelona
Small group Girona Half-day Tour from Barcelona
Large group Day tour Girona, Figueres, Dali Museum
Go to Girona yourself by train



3. Costa Brava coast and beaches


Visit the beautiful villages and beaches of the famous Costa Brava coastline of Catalunya that starts just 1 hour north of Barcelona. In the winter you can enjoy the stunning scenery and in the summer you enjoy a swim in the crystal clear waters of the Costa Brava beaches and coves.


Pictures Costa Brava beaches and coast
Small Group Girona and Costa Brava day tour
Small Group Costa Brava day tour





4. Andorra, France & Pyrenees Mountains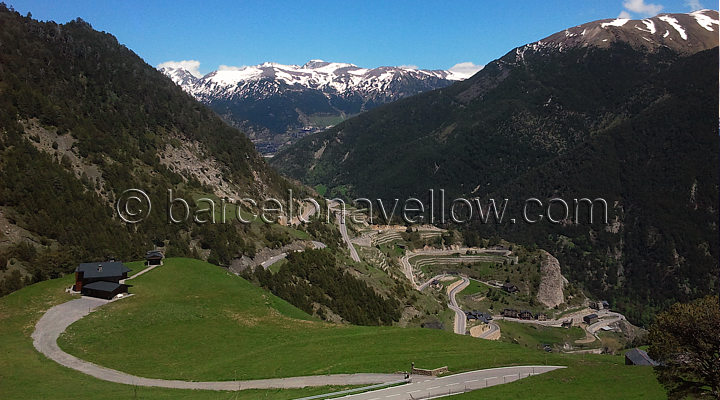 Andorra and the Pyrenees mountains. You can take a bus from Barcelona to visit Andorra. Or book a day tour to three countries in one day, Spain, France and Andorra. Start in Spain, then visit France and Andorra and the beautiful Pyrenees mountains on a day tour from Barcelona to Andorra. Andorra is a small country entirely situated in the Pyrenees on the border between France and Spain. On a day road trip from Barcelona you will spend a unique and wonderful day crossing three country borders and mountain passes in one day while enjoying fantastic views, mountain roads and romanesque churches.

Pictures Andorra and Pyrenees Mountains
Small Group Day Tour to Andorra, France and Pyrenees




5. Tarragona & Roman ruins of Tarraco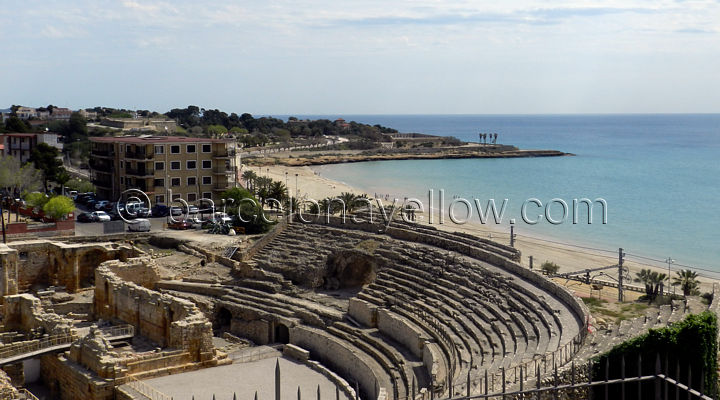 Tarragona is a beautiful coastal city just 1 hour south of Barcelona by car or train. It is the capital of the Spanish province of the same name and the capital of the Catalan comarca Tarragonès. Tarragona was the most important Roman city and the Roman capital city of Spain. The Roman imperial city was called Tarraco (full name Colonia Iulia Urbs Triumphalis Tarraco and there are many impressive roman ruins in Tarragona, including the Amphitheatre of Tarragona (pictured above), the Roman circus and the Roman aqueduct. The Roman ruins of Tarraco have been designated a UNESCO World Heritage Sites.

About Tarragona, Spain
Small Group Day Tour to Roman ruins Tarragona




6. Sitges - the St Tropez of Spain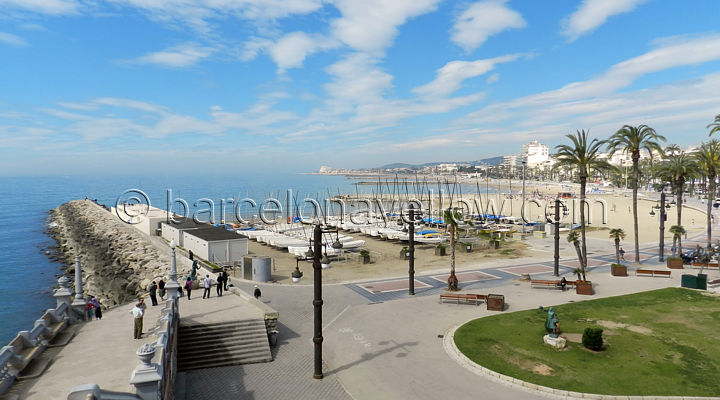 Sitges is a charming sea-side resort known as the St Tropez of Spain. Sitges is really somewhere to enjoy for day at the beach or just a day out of the city. Sitges does not have much history or any amazing sights to see but is easy to reach by train and popular just to get a break from the bustle of Barcelona. Sitges is just south of Barcelona and can be visited by train. There are small group tour usually in connection with a visit to the wine areas of Catalunya or Montserrat mountains. Generally tourists visit Sitges in the summer.

About Sitges
Pictures of Sitges
Go to Sitges yourself by train






7. Dali museums near Barcelona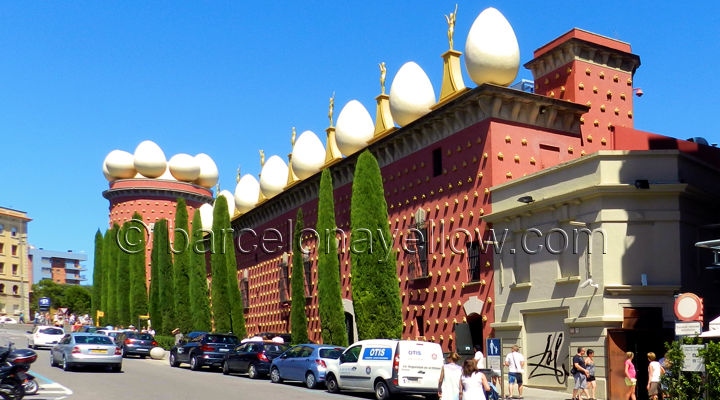 There are 3 Dalí musuems near Barcelona which is called the Dalí Triangle. All three Dalí musuems are in the Girona province of Catalonia, Spain. The most popular is the world famous Salvador Dalí Theatre-Museum which is also the biggest Dalí museum which is in his birth town of Figueres. Figueres is the capital of the county of Alt Empordà, in the province of Girona, Catalonia, Spain. This museum is best reached by train or by tour bus. It's very popular in the summer and they don't sell skip-the-line tickets, so the only way to skip lines is to book a tour in advance. The other smaller but equally fascinating Dalí musuems are the Dalí house-museum in Port Lligat, where Dalí and his wife Gala lived for most of their lives. Port Lligat or Portlligat is a coastal village in a small bay on Cap de Creus peninsula, on the Costa Brava of the Mediterranean Sea, in Cadaqués in the Alt Empordà country, in Girona province of Catalonia, Spain. The third and least known and least visited is the Gala Dalí house-museum in Pubol, where his wife, Gala Dalí resided alone for the last years of her life. Púbol is a village county of Baix Empordà, in the province of Girona, Catalonia, Spain. There are no Dalí museums in Barcelona.

About Figueres
About Salvador Dali
Full Day tour Girona, Figueres & Dali museum
Half-day Tour High speed train + Dali Museum (April to Nov)
List of tours to Dali museums from Barcelona
Go to Figueres yourself by train






8. Port Aventura theme park & Ferrari land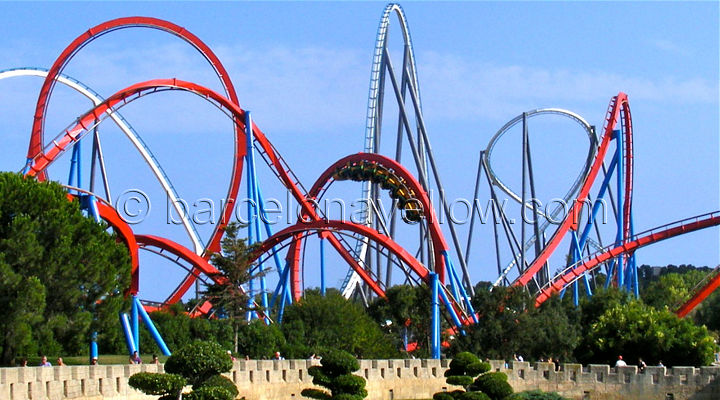 Port Aventura is a big amusement theme park which is 1 hour south of Barcelona near Tarragona and Reus. PortAventura has Europe's biggest rollercoaster until in April 2017 a new themepark by PortAventura called Ferrari land opens with what will be the tallest and fastest rollercoaster in Europe. PortAventura also has a waterpark called Caribe Aquatic Park. To get to PortAventura theme parks take train or bus from Barcelona. When you have paid the entrance fee at PortAventura then all rides are free. Caribe Aquatic Park and Ferrari Land are a separate theme parks. We recommend you use a full day to enjoy Port Aventura and 2 if you want to include Caribe Aquatic Park and Ferrari Land

About Port Aventura
Caribe Aquatic Park
TICKETS bus day trip to Port Aventura
TICKETS PortAventura theme park
Tickets Ferrari land PortAventura
Train information Port Aventura


To get to these destinations and many more day trips from Barcelona visit our Barcelona tour page and we also invite you to visit one of our partners, the small group tour specialist DaytripsBarcelona.com.


© Copyright Barcelonayellow.com.
Do not copy from this page without permission.
All rights reserved




Last Updated on Tuesday, 01 May 2018 16:33