Family friendly Barcelona. Where to stay in Barcelona family with children in 2023?
Where to stay in Barcelona family with children
Which area is best for a family stay in Barcelona?
Tips, maps and family-friendly places for kids

Updated February 2023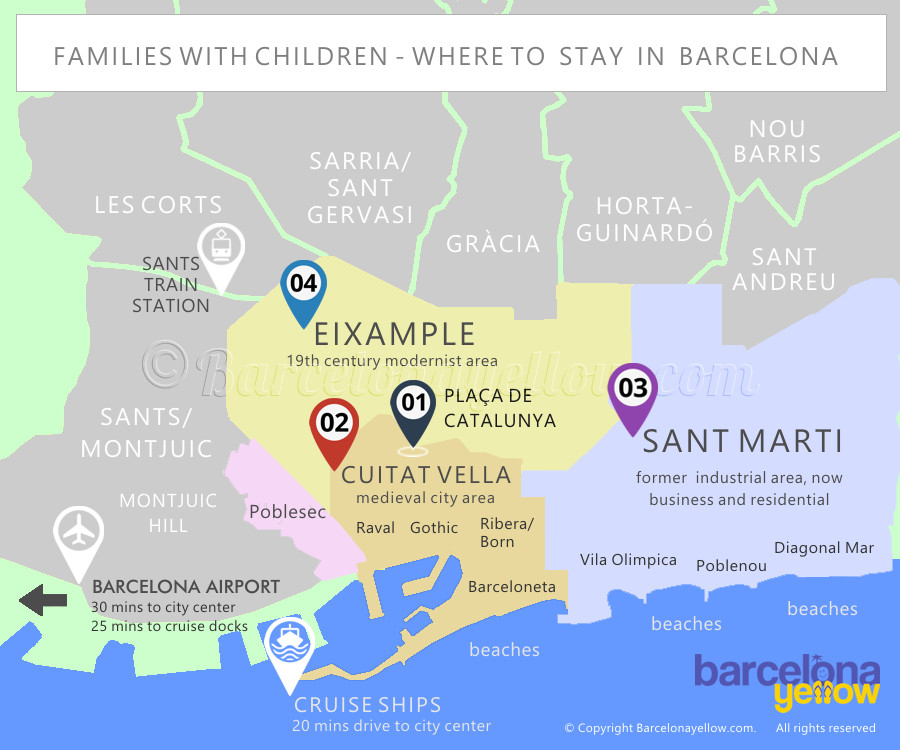 There are several neighbourhoods that are best for a families with children.

Among the most enchanting locations for families is the vicinity of the renowned Sagrada Familia church

Below, you'll find suggestions for family-friendly apartments with excellent reviews:

Sensation Sagrada Familia Rated Superb
Hotel Sagrada Familia Apartments - Rated Very Good
Casa Vilà - Rated Superb
Apartaments-Hotel Hispanos 7 Suiza

Tips for hotels with family rooms

Andante hotel
Novotel Barcelona City
Gran Hotel Havana
Hotel Eurostars Grand Marina

There are 4 central Barcelona areas which are the most popular and generally considered the best places to stay in Barcelona for tourists to Barcelona.

These areas are as follows: near the central square Plaça de Catalunya, in the Eixample district, in the medieval Ciutat Vella district and in the Sant Marti district

For families with children all four areas are fine to stay in, however each area has a distinct profiles and featues, so we will describe below and add our tips for some family-friendly hotels and apartments.

For larger families of four persons and above, we recommend family apartments or apart-hotels. This type of family accommodation is generally better value because you'll have more space and considerable savings on services, snacks and meals.

Apartments can either be in residential blocks and managed by a private host - or could be in dedicated apart-hotel buildings with a choice of apartment sizes and a reception service, which is convenient for check-in and check-out.

Be sure to check reviews to make sure that the apartment has fast and reliable WiFi available, if you don't have roaming deals on your phone. You can usually check things like WiFi performance in the reviews.

Before you begin to look for places to stay with your family, maybe you want to have a look at Barcelona's top attractions for kids inside the city. Top childrens' attractions are the Barcelona Aquarium, FC Barcelona Camp Nou stadium, Barcelona Zoo, Tibidabo fairground, Montjuic Magic Fountain, the hilltop Montjuic castle, riding cable cars, Barcelona boat tours, Ciutadella park and Barcelona's beaches in the summer (May to Sep).



1st choice familes with children
Plaça de Catalunya area

Barcelona's downtown central city square
Located between 19th century area and medieval area
Best place to stay for central access to everything.
Good for familes with children of all ages

Why this neighbourhood is good for families:

From here you can walk to a number of Barcelona's top sights including Casa Mila ;and Casa Batlló by Gaudí, the gothic area, Barcelona cathedral and more. You will be close to all metro connections. The yellow metro line L4 takes you directly to Barcelona's own beaches but you can also take a coast train and be on amazing beaches north and south of the city in 1 hour or less. You will be close to hop-on-hop-off buses and the airport shuttle bus and the T2A bus to Barcelona's vintage amusement park Tibidabo at top of Tibidabo hill.

You will be close to regional train connections, so you can travel outside Barcelona to theme parks like PortAventura World, Ferrariland and to beaches outside Barcelona and sights/areas outside Barcelona.

You can be on very nice quiet beaches north and south of the city in 1 hour or less. There is also a supermarket open til 10pm at department store Corte Ingles, if you are staying in an apartment. If you have children who enjoy shopping in brand name stores, then most popular brand stores are close by. Important safety tip: The metro and trains are very safe but be aware of pickpockets.

What's the cost? Staying in the downtown central area of Barcelona is of course a little more costly and the area is quite touristy and more noisy. But you save on convenience and travel time and most kids love the bustle of being in the center of a city.


Top rated family friendly apartments near Plaza Catalunya

Best reviewed Apartments Pl Catalunya
Family apartments Barcelona
Hotels near Plaça de Catalunya

Our top picks

DestinationBCN Universitat - Rated Superb
Central Suites Barcelona - Rated Fabulous
You Stylish City Centre Apartments - Rated Very Good
Serennia Apartamentos Ramblas - Rated Very Good
Aspasios Rambla Catalunya Suites - Rated Fabulous
BCN Apartments 41 - rated Superb




2nd choice family with children
Ciutat Vella district

Medieval city area
Narrow streets and old architecture.
Best place to stay for history and charm
Good for familes with children of all ages

Why this neighbourhood is good for families:

The medieval parts of Barcelona are very charming and fun for kids. So if you want to give your children some history and culture then the medieval part of Barcelona has plenty of it. This is also where you will find the famous La Rambla street, Barcelona Cathedral, Roman walls and Palau Guell house by Gaudi. The Ciutat Vella ( it means 'old city') is one of the largest medievel city areas in Europe and includes the five oldest neighbourhoods of the city which are called La Raval, Barri Gotic, La Ribera / El Born and Barceloneta.

For families with children under 18 we recommend the Gothic neighbourhood and El Born neighbourhood. These are the oldest and have the most history and charm. Here you can visit three gothic churches, wander around the narrow streets and find shops, cafes and restaurants are great.

The Cuitat Vella borders the Port Vell marina where you can find the aquarium, harbour boats and bike tours. If you are in the Ribera/Santa Catarina/Born part of the Ciutat Vella then you are also close to the Park Ciutadella. Know that if you book private minivan tours then pick-ups are more difficult. Taxis can usually take you close to your hotel or apartment, but tour buses and minivans prefer to avoid the narrow streets of this area.

If you can stay in the Gothic area but still be in walking distance of Plaza Catalunya, then that is ideal. Travel tips for guests staying in Ciutat Vella: Be careful of pickpockets. Don't buy bags, shoes, soda on the street. It's illegal and street items can be infected with E.coli bacteria. Street sellers store drinks in sewer drains and street vendors store goods in equally unsanitory places.

Some recommendations for family friendly stay in Ciutat Vella

Portal de Angel Barcelonastuff Rated Very Good
Sweet Inn Apartments - Ramblas Rated Good
Barcelona Mercaders Apartments Rated Good
Apartments Ramblas108 Rated Very Good

All hotels Gothic area



3rd choice family with children:
Sant Marti district

Former industrial area
Now office and residential area near beaches
Modern architecture and big beach promenade
Great place to stay for sea and beaches

Why this neighbourhood is good for families:

In the summer months children love being near the sea. The beaches are safe and there are many activities like bike tours, segway tours etc on the beach promenade. For sea activities like jet-ski, SUP paddle visit the marinas Port Olimpic or Port Forum.

If you enjoy walking one can walk in 20 minutes to the older city center areas and Barcelona Zoo is also quite close. The yellow metro line L4 connects you to the city center and there are some tram connections too.

Feelathome Poblenou Beach Apartments Rated Very Good
Lugaris beach Apartments Rated Very Good
Barcelona Apartment Republica Rated Good
RAMBLA BEACH Barcelonastuff Apartments Rated Very Good
Hotel SB Icaria ★★★★ Rated Good
Hesperia Barcelona Del Mar ★★★★ Rated Very Good
Diagonal Zero ★★★★ Rated Good
Princess hotel ★★★★ Rated Very Good


Map Barcelona beach hotels
Guide hotels near Barcelona beach
Apartments near Barcelona beaches
Guide Best Barcelona beach hotels
Map Barcelona beach hotels



4th choice family with children:
Eixample district
Central area with 19th century modernist architecture.
Good for shopping and comfort
Eixample is a big district with local 'barrio' neighbourhoods
Check metro access before booking

Why this neighbourhood is good for families:

Eixample is our third choice for Family friendly stays in Barcelona for families with kids. Eixample's a little more upmarket, and perhaps a little more boring for children. Getting to the children's attractions can involve more walking or more transfers on public transport. If you kids are a bit older and can appreciate a bit of history and architecture, fine dining and trendy cafes, then Eixample is a good choice, but maybe for younger kids it will might a bit more dull.

Sensation Sagrada Familia Rated Superb
Hotel Sagrada Familia Apartments - Rated Very Good
WeFlating City Center Rated Fabulous
Central Suites Barcelona Rated Fabulous
Ps de Gr. Bas Apartments by Aspasios Rated Superb
Aspasios Rambla Catalunya Suites Rated Fabulous

Hotel America ★★★★ Rated Very Good
Boutique Hostemplo Sagr Familia ★★★ Rated Fabulous
Hotel Casa Bonay ★★★★ Rated Superb
Villa Emilia ★★★★ Rated Fabulous

Hotels in Eixample area
Hotels nr Passeig de Gracia
Apartments nrr Passeig de Gracia
Hotels near Sagrada Famila church
Apartments nr Sagrada Famila
Hotels near Plaza Espanya
Apartments nr Plaza Espanya

FULLSCREEN map Barcelona Family Apartments





Where are Barcelona's top attractions

Barcelona's top 10 attractions are spread around the city as you can see from the map below.

The most central place for all top sights is near Plaça de Catalunya central square, but the city is small, safe and well connected by metro and tram so you can stay almost anywhere.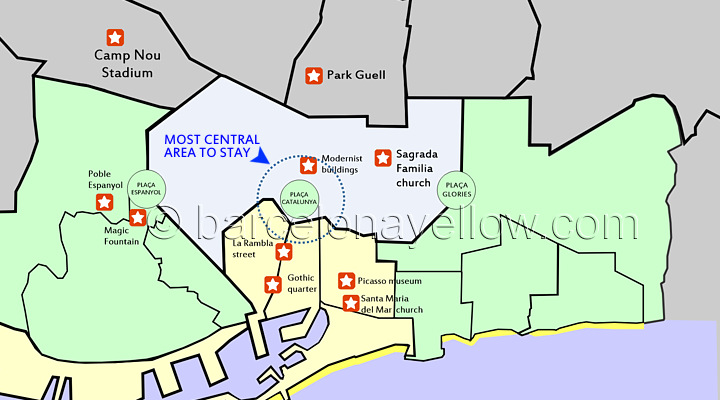 Related pages

Attractions children Barcelona
Plan 2 day visit Barcelona
Plan 3 day Barcelona visit.
Guide to Barcelona's top 10 attractions
Barcelona Cruise passenger guides
Barcelona Travel Tips

© Copyright Barcelonayellow.com
All rights reserved.
Do not copy from this page without permission



Last Updated on Monday, 16 October 2023 13:52