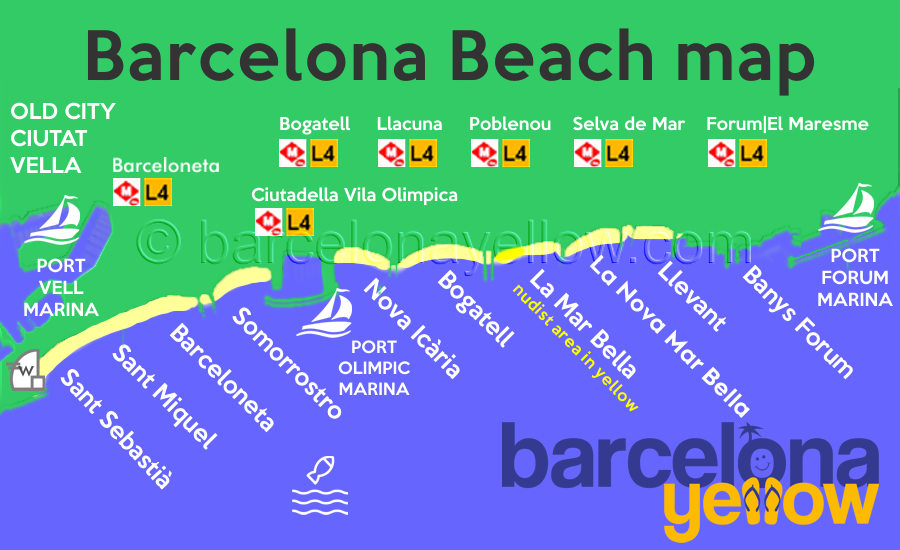 Best Barcelona beaches - names & map

Updated August 2022

Barcelona best beaches. Guide to Barcelona's top beaches. The beaches of Barcelona are a top Barcelona attraction in the summer.

The 2022 beach season in Barcelona is from 28th May to September 11th 2022.

Beach support services are open during the swimming/bathing season are open from 10.30am to 7.30pm at all of Barcelona's 11 beaches,

Toilets are available from 10.30am to 9pm.

Outside those times and dates there are no lifeguard or rescue services, only the 012 emergency freephone service.


Useful information

Beach is called 'playa' in Spanish and 'platja' in Catalan.

Beaches are open with services from Easter but sea water is chilly still at around 14°C/ 57°F

The beach swimming season in Barcelona is from generally from end May to mid September when the Barcelona sea water temperature is most comfortable for swimming.

The sea temperature in the summer is from 20C to 24C degrees Celcius and in the winter months it drops to around 12C to 14C degrees Celcius.

Smoking is not allowed on sand areas of all Barcelona beaches from 30th July 2022. The smoking ban includes the Banys Fòrum swimming area

Smoking is still allowed on beach bar terraces and on pavements

Fines of €30 will be imposed. The objective is primarily to keep the beach clean and raise awareness about the dangers of smoking.

Each Barcelona beach has a different name, which you can see on the Barcelona beach map.

The nearest beaches in Barcelona are 15 to 25 minutes walk or by metro train from the Barcelona city center.
If you want to be closer to the beach then you might also be interested in our guide to best hotels near beach.
Article continues below ads


Daily services, like lifeguards, first aid and rescue centres, public toilets, an environmental information centre, a beach centre on Barceloneta beach (opposite the Hospital del Mar) and police safety points, are usually open from May and stay in operation until September.

After September there might be weekend beach services until the middle of October depending on the weather.

Fishing is allowed at all beaches after 9pm and until 10am.

At the end of the beach season in Barcelona divers from the Guardia Urbana police force dive to clean waste and litter from the seabed to improve the ecosystem of the beaches and for the safety of future bathers.

Best books set in Barcelona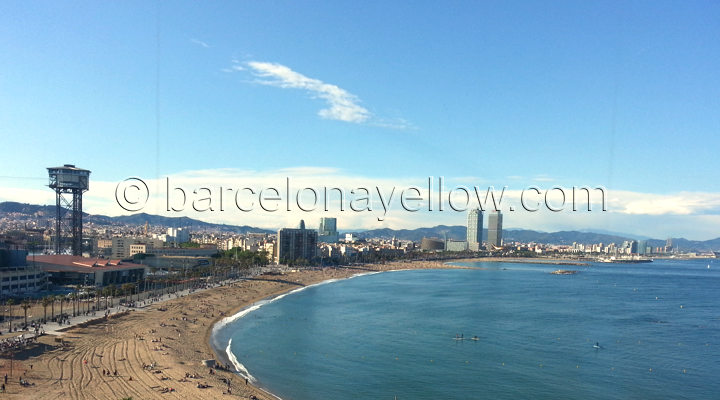 How to get to Barcelona beaches
All Barcelona beaches are all on the yellow Metro line L4. You can get off at Barceloneta metro station then walk to the Barceloneta beach in 15 minutes. Once at the beach front you can walk along the sea to all the beaches.

Bear in mind that there are 9 km/5 miles of beaches in one continuous stretch, so if you have a favourite beach, then it might be easier to take the metro directly. Find the metro stations nearest to beaches on the beach map at the top of this page.


Which is the best Barcelona beach?
All the beaches are nice, so it depends on what kind of beach experience you are looking for. In general terms the southern beaches are more lively and crowded because they are closer to Barcelona's city center. The northern beaches are less crowded and have nicer sand.

Whichever beach you are on in Barcelona, it is important to understand that the Barcelona beaches ar by the city so they are 'urban beaches'.

By this we mean that the beaches are in the city area and because of this they get over 3 million visitors every year, which makes the beaches are crowded in high season.

The volume of visitors means that the sand is not always as 'golden' or 'white' as many blogs and guidebooks might claim.

But for city beaches they are excellent. They are close to the city and have excelllent facilities. The sea water and sand are cleaned daily. They are cleanest in the morning, but can get a bit littered at the end of a busy beach day.

You can help by taking your litter with you - or putting litter in the provided bins. And please don't leave toxic cigarette butts in the sand.

Trillions of cigarette butts are thrown into the environment every year, where they leak nicotine and also heavy metals before eventually after years become microplastic pollution.

Best Barcelona hotels near beach

Barcelona city council makes a big effort to keep the sand clean and the seawater clear with 200 people working daily in the summer on beach services. Barcelona's beaches are cleaned daily early in the morning and the water quality is tested daily and is very high.

So if you get there early the beaches will be very clean and the water will be clear and fresh.

You can check the water quality and temperature on the official Barcelona beach website. Barcelona has special beach police patrols to keep the beaches safe and 60-65 Red Cross lifeguards with 2 boats on duty to keep swimmers safe during the main Barcelona beach season from May to Septeber.


Costa Barcelona beaches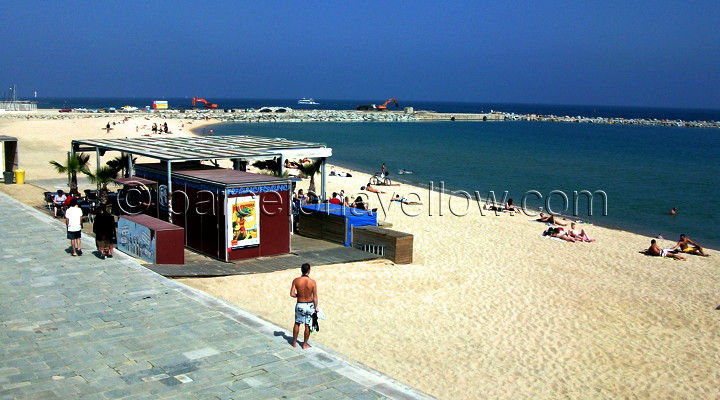 The entire Barcelona metropolitan area, which includes towns near Barcelona is called Costa Barcelona. Costa Barcelona has 32 km of beaches in total stretching from Montgat which is north of Barcelona to Castelldefels which is south of the airport.

The entire Costa Barcelona coast line welcomes 9 million bathers a year. So if you are looking for nicer, bigger and a bit tidier beaches, then check out the many beaches outside Barcelona that can easily be reached by train or car. Or book a small group Costa Brava tour to Costa Brava beaches outside Barcelona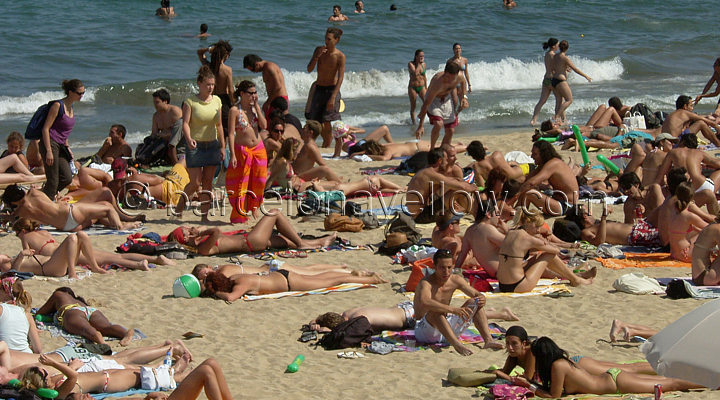 Article continues below ads


Pictures Barcelona's beaches
Barcelona sea water temperatures
Beaches outside Barcelona
Hotels near Barcelona beaches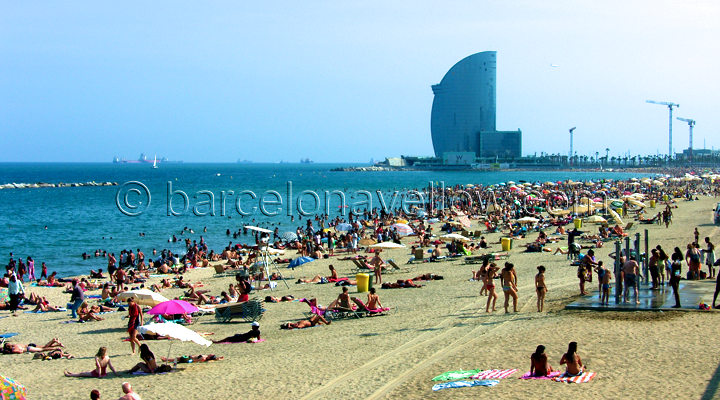 Names Barcelona city beaches
Overview of Barcelona beaches
Sant Sebastià beach (most southerly near W hotel)
Sant Miquel beach
Somorrostro beach
La Barceloneta beach
La Nova Icària beach
Bogatell beach
La Mar Bella beach (has nudist area)
La Nova Mar Bella beach
Llevant beach (most northerly w area for dogs)
Banys Forum - bathing area Parc del Forum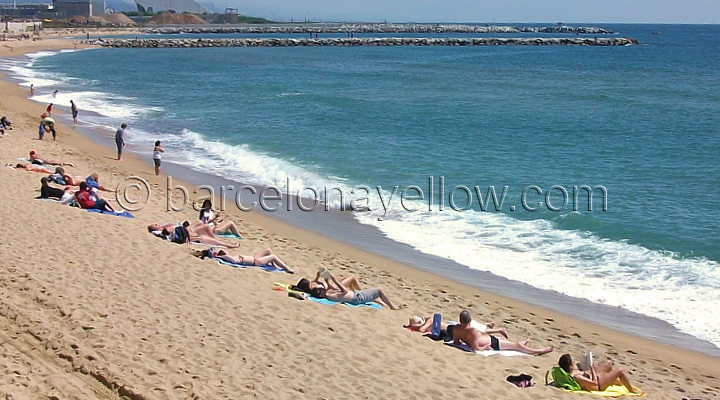 Best Barcelona beach hotels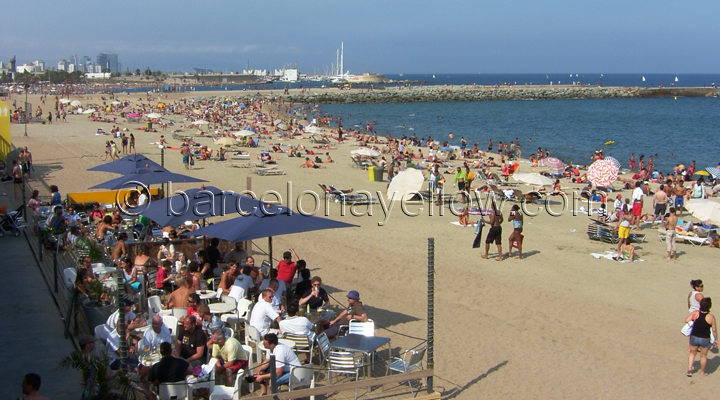 Chiringuito beach bars Barcelona
Each Barcelona beach has small beach bars on the sand that are called 'chiringuitos' (pronounced chee-ring-geet-toes.) These little beach bars often organise beach parties. Chiringuitos are hugely popular and serve drinks, snacks and a menu of snacks and salads. The food and drink is a little more than in the city, but considering the beach location the prices are reasonable. Chiringuitos also rent out sun-beds and often have DJ's playing chill-out music. There are also a number of night clubs on the Barcelona beachfront.
Barcelona beach clubs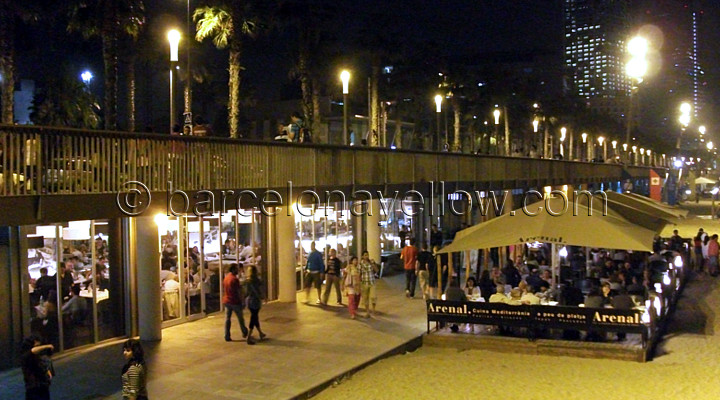 Opening times for Barcelona chiringuito beach bars. Barcelona's beach bars are open daily from around 10.00 in the morning until 02:00 on all beaches, except the chiringuitos in Barceloneta beach in front of residential areas, which close at midnight.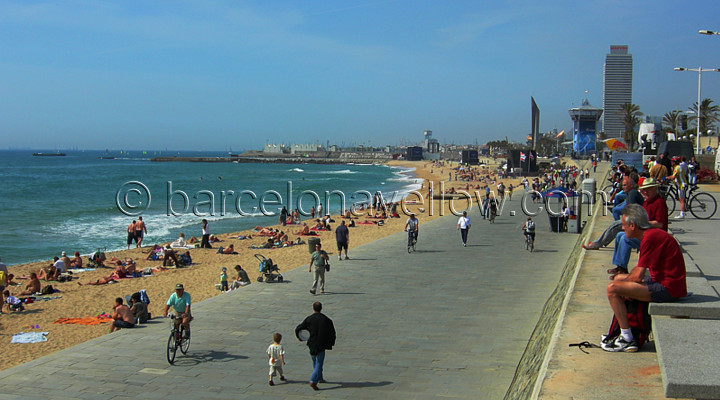 Beach parties
There are often beach parties in Barcelona but they are usually small beach parties at the beach bars called chiringuito bars. Barcelona beaches are also a great for fitness activities and the beaches are a year-round favourite for free jogging, skating, walks, biking and beach volleyball.


Nudist beaches Barcelona
There is a nudist or naturist beach on a section of La Mar Bella beach in Barcelona.

The nudist beach section is marked in yellow on the Barcelona beach map.

Nudists were previously unofficially permitted on the Sant Sebastià beach, but this is no longer common.

It is not an official nudist section and with the arrival of the Hotel W and many new beach-front restaurants, nudism on this Barcelona beach is no longer popular.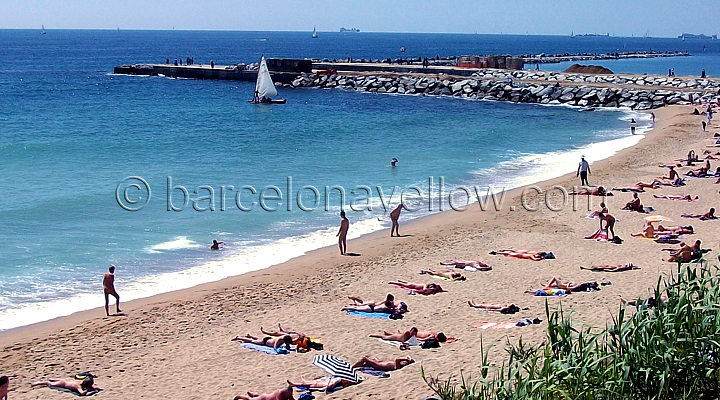 Swimming and safety
Swimming and bathing in Barcelona is very safe and there are no dangerous currents close by the shore.

Check the lifeguards flags at all times before going into the water. All the Barcelona beaches have the EU Blue Flag ratings for eco-quality, disabled access, lifeguards on duty (only in season), showers etc.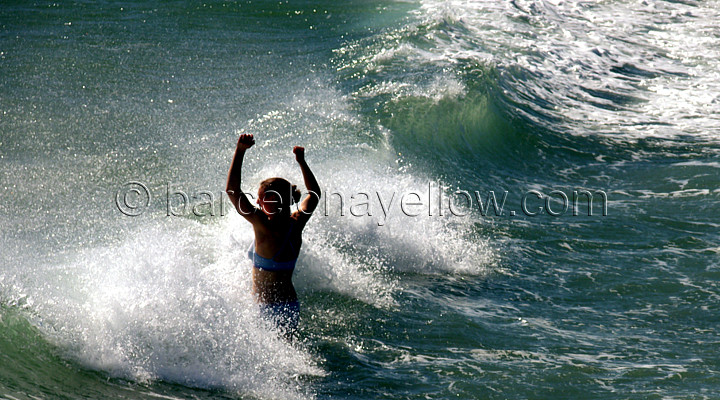 There can be big waves at Barcelona beaches. It can also be windy. If the waves are big or there is a strong off-shore wind and you are not strong swimmer, stay close to the shore and away from the rocks. See our Barcelona weather page and read more about Barcelona sea water temperatures. Check the Green, Yellow and REd warning flags at the Red Cross Lifeguard centres before going for a swim.

Green flag - safe for bathing
Yellow flag - bathe with caution
Red flag- bathing prohibited


Jellyfish - Medusas
Jellyfish Barcelona. Sometimes in the warmer months the Barcelona beach waters are invaded by jellyfish (called medusas.) This is usually in late July and August when the water can be up to 26 degrees warm. Swarms of jellyfish appear because of generally warmer sea temperatures combined with recent years decline in marine life like turtles, that eat jellyfish and help keep jellyfish numbers down. The good news is that the jellyfish are usually around 50m from the shoreline, so you will not notice them very much.

If you are on the beach in Barcelona and there are many jellyfish in the water, you can see a yellow flag - which means bathe with caution - or the special "jellyfish" warning flag at the Red Cross life guard centres (called the Creu Roja Catalunya.) If you are unlucky and get stung by a jellyfish, then ask the Red Cross life guards - called socorristas - for free assistance. A jellyfish sting is painful, but not dangerous and causes a rash similar to being stung by nettles, but it can be unpleasant. One of the best treatments for a jellyfish sting is warm salty water.
Read more about jellyfish and treatment

article continues below ads



Beach safety lockers
There aren't any public lockers on Barcelona beaches, so don't leave your valuables unattended - and don't fall asleep on the beach, even if you are using your bag as a pillow. The beaches in Barcelona do have problems with thieves stealing bags, so our advice is to leave valuables in your hotel safe and just take a little cash with you to the beach.

Barceloneta beach probably has the worst problem with bag thefts on the beach because it is closest to the city centre. The more northerly beaches are not so bad, but be aware anyway. Barcelona is a very safe city but there are problems with pickpockets and bag-thieves.
How to avoid pickpockets in Barcelona


Surfing and Paddle surfing
Surfing and SUP paddle surfing in Barcelona. Surfing has become popular in Barcelona in recent years and you will generally surfers in spring, autumn and winter in Barcelona. The waves are small and choppy. Barcelona is not a top surfing destination, but on some days it is possible to catch some waves and the good news is that there are no sharks or other dangerous animals.

Also very few currents or riptides, but be aware of your position and never surf alone.

The best surf beaches on the city beaches are Sant Sebastian and Sant Miquel down by the Hotel W. There are breakwaters in front of some of the other Barcelona beaches to reduce the number of waves breaking on the shore. Bad news for surfers but it makes swimming safer for bathers in the summer and reduces the erosion of the Barcelona beaches caused by the spring and autumn storms. Another sport growing in popularity on the surf beaches of Barcelona and especially on beaches outside Barcelona is SUP Stand Up Paddle board surfing which is a fun watersport that anyone can learn. You can rent paddle boards in Barcelona at several places mostly around Barceloneta beach.


What can you rent on Barcelona beach?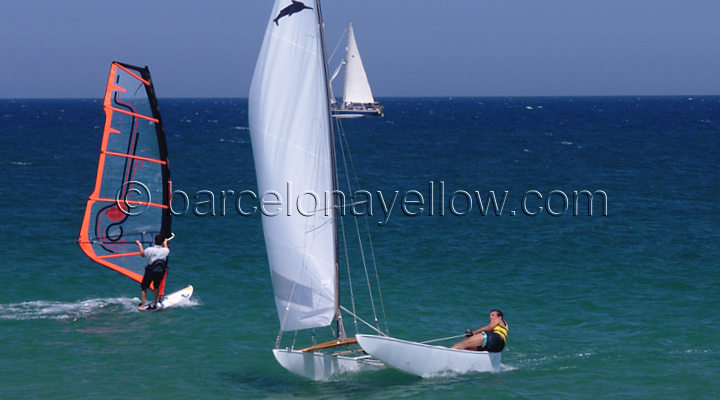 There is not very much to rent at the beach. Barcelona is not a beach resort, but a city with a beach, so there are few watersport rentals on Barcelona beaches. There are no pedal boat rentals on Barcelona beaches, mostly because the waves can be too big. There is one company offering parachute rides and banana rides. You can rent SUP paddle surf boards by the hour at Barceloneta beach and near Port Olimpic. Jetskis cannot be rented on the beach, but there are Barcelona jetski rental companies in the Port Olimpic marina and the Port Forum marina. There are two Barcelona sailing clubs on the beach coastline, but they are for members only and do not have tourist sailing rentals.


Difference in Barcelona beaches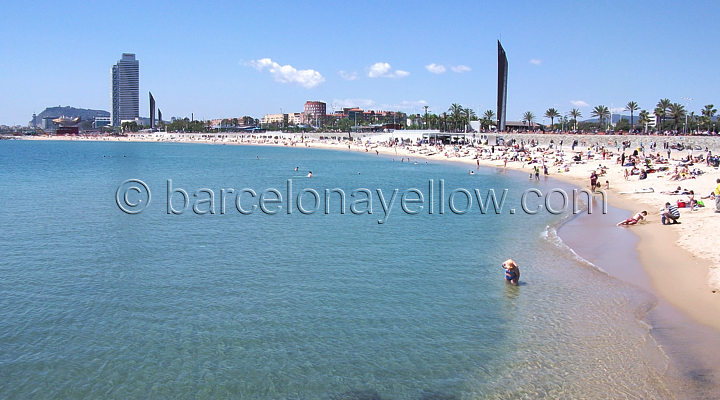 The beaches run from south to north and so does the party scene. The party beaches that are most popular with students, travellers, backpackers and tourists are the south beaches called Somorrostro, Barceloneta, Sant Miquel and Sant Sebastia which are closest to the old city of Barcelona. These beaches are fun, crowded, noisy and the sand is more dirty than the other beaches. This is almost where you are most likely to have your bag stolen or snatched on the the beach. It´s a good idea to be aware on the beach. Do not leave valuables like phones and wallets in plain view and if possible do not take valuables to the beach at all.


Safety on the beach
Guide to avoid pickpockets. If you are looking for more tranquil beaches with cleaner sand, then go to the beaches to the north of Barcelona´s beach front. As you walk north along the beaches in Barcelona, you will notice the difference. The north beaches in Barcelona are better liked by local residents and families and definately less touristy. The sand is cleaner too. If you enjoy nudism or naturism, then head for Mar Bella beach, which is the official city nudist/naturist beach, although nudism is not compulsory. The small nudist area is in front of an artificial dune created to spare innocent eyes from naked flesh, but you will often also see nudity a little way outside the designated nudism area.


Zona Banys Forum bathing area
At the north end of the beaches there is an alternative to sand beaches called the Zona Banys Forum. This is an open water bathing area where you can swim in sea water in an enclosed area. Not charming at all but no sand and not very crowded


Nude beaches and nudity laws
A law was passed in 2011 banning nudity and semi-nudity on Barcelona streets both to avoid having an image as a vacation resort and to address issues of hygiene and respect for those members of the general public who prefer not to see semi-nude people on the streets. Being nude or semi-nude ( topless) away from the beach could mean a fine €300 to €500 euros. This also means no walking around the city in bikinis or shirt-less. This is only permitted near the beach. Nudism or naturism on Barcelona beaches is only permitted on the small nudist heach area of Mar Bella beach.


Dogs on Barcelona beach
Dogs are not allowed on Barcelona beaches in the bathing seaons. During the bathing seasons there is a dog beach for bathers to bring their dogs on the most northerly beach in Barcelona called beach Llevant. The dog beach is open from 1st June to 25th September with a capacity for 100 dogs.


History Barcelona beaches
Before the Barcelona Olympic Games in 1992, it was often said that Barcelona had 'turned its back' on the sea. The shores of Barcelona were mostly areas with factories and there were even shanty town slums on the beaches. The only area for bathers was at Barceloneta beach.

All this changed in 1992 when new beaches and a long new beach-front was constructed for the 1992 Barcelona Olympic games. Since then Barcelona has become a top beach city to the joy of both tourists and residents who can choose from 9 beaches on a stretch of 5km from Barcelona's harbour north up the coastline of the city up to the Port Forum marina.

Maps, locations and information Barcelona city beaches
Photos Barcelona best beaches
Beaches outside Barcelona
Best books set in Barcelona

© Copyright Barcelonayellow.com
Do not copy from this page without permission
All rights reserved.

This page is sponsored by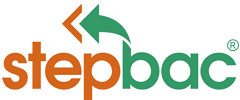 Stepbac® - a simple way to take back control of health and happiness - www.stepbac.com

and by




Photomemoirs - a fun and easy way to write memoirs - www.photomemoirs.co

and by www.DayTripsBarcelona.com