Best Barcelona hotels near cruise ship port Moll Adossat 2018
Hotels near Barcelona cruise terminals
Updated September 2018

Welcome to our guide to help you choose the best hotels near cruise ship port and docks in Barcelona for 2018.

Barcelona's cruise ships all dock in Barcelona harbour and marina, which is on the city center coastline. Barcelona cuirse port has 7 cruise ship terminals located on 4 piers in the port area of Barcelona.

The biggest pier where the biggest cruise ships dock is called Moll Adossat. This page is about Barcelona hotels near cruise ships but you might also be interested in our Barcelona cruise ship guide and our Barcelona airport Guide

Many cruise guests choose to combine a cruise leaving from Barcelona with a few nights in the city. Many choose to stay within 20 to 30 by taxi or transfer from the ship terminals to make sure that you don't miss the departure times but get the maximum time in Barcelona for sightseeing.

Use the Barcelona cruise ship map below to see where the main cruise ship terminals on Moll Adossat are located and scroll further down to our hotel map, where you can find the best Barcelona hotels near cruise ships and our tips for the best hotels near the cruise ship dock Moll Adossat in Barcelona.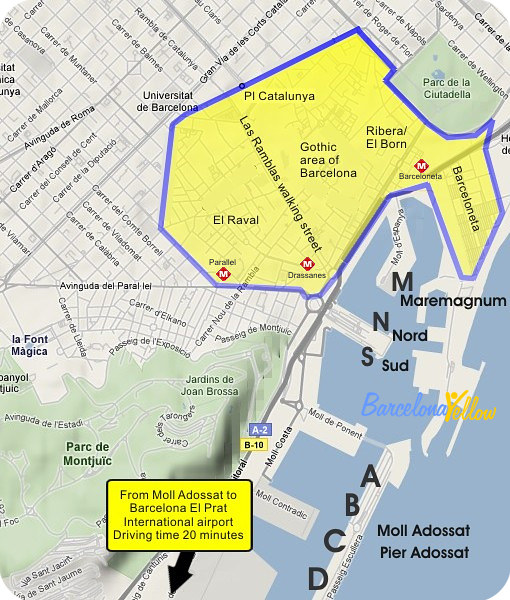 Most cruise ships in Barcelona dock at the Moll Adossat dock in Barcelona harbor port which you can see marked on the hotel map below. Moll Adossat is very close to Barcelona city centre but not walking distance. See map

There are many excellent hotels which are a 15 minutes by Barcelona taxi from the cruise ships at pier Moll Adossat or by private cruise transfer. You can book Barcelona hotels safely by following our hotel links shown on the map below. There are no added commissions for booking via our webpage and you will be happy to know that the hotel price is the same as the hotel's own prices.

The cruise ship terminals in Barcelona are all within 30 minutes from most hotel locations in the center of Barcelona, so as a cruise ship passenger in Barcelona, you can choose from many popular hotels in the center of the city too, so we recommend also that you visit our 2018 Guide to where to stay in Barcelona to get an idea of how the city is laid out. You might also like our guide to the new popular Barcelona hotels.

For convenience many Barcelona cruise ship passengers prefer to stay in hotels near the Barcelona cruise ship port area which is also close to the medieval city center of Barcelona. On the map below you can see a selection of the best reviewed hotels in Barcelona in the medium to expensive price range that are within a 15-20 minute radius by taxi cab to and from the Barcelona cruise ship terminals



Red

tags are Barcelona cruise ship terminals, A, B, C, D, S, N, & M



Blue

H1-H5 tags are 1 to 5 star hotels. Click for hotel info

Open FULLSCREEN map hotels Barcelona cruise ships





Tips for popular hotels near Barcelona cruise ships

Hotel Catalonia Port. ★★★★ 4 star hotel.
Rated FABULOUS by guest reviews. Close to cruise ships. Facilities include gym, sun terrace with small seasonal pool and Free Wi-Fi. Has facilities for disabled guests
BOOK Catalonia Port


Andante Hotel ★★★ 3 star hotel
Rated FABULOUS by reviews. 10 minutes by TAXI to cruise ship terminals in Barcelona. 5 minutes walk to Las Ramblas. Modern air-conditioned rooms with wood floors, a laptop safe, flat TV, bathroom with full-length mirror. Facilities include Free WiFi, buffet breakfast, self-service area, terrace and gym.
BOOK Andante hotel


The Serras Hotel ★★★★★ 5 star hotel
Rated EXCEPTIONAL by guest reviews. Sublime design, spacious rooms with balconies, harbour views and a short stroll from many historic sights. Master Catalan Chef Marc Gascons. Hotel is on site of Pablo Picasso's first studio.
BOOK The Serras


H10 Port Vell ★★★★ 4 star hotel
Rated SUPERB by guest reviews. Only 220 metres from Port Vell marina. Air-conditioned rooms with 42-inch flat- TV, minibar and Nespresso coffee machine. Facilities include rooftop chill-out terrace and pool. 10 minutes by taxi to all Barcelona cruise ships and Moll Adossat.
BOOK H10 Port Vell




Getting to cruise ships
To get to cruise ships on Moll Adossat pier (map Moll Adossat) there is a public cruisebus shuttle service that runs from the Columbus monument at the port end of the walking street called La Rambla which goes to the four main cruise ship terminals located on Moll Adossat, but this T3 port bus is mostly practical for transfers if your hotel is within walking distance of the port bus stop. This can also be useful is you are sightseeing nearby and want to return to your ship
If you are in a hotel or apartment that is a little further awayfrom the port bus - then you might as well take a taxi all the way to your cruise ship. Please note that taxis to the airport and to cruise ships charge a small supplement for these destinations. To find out how to get from Barcelona city centre to cruise ship port - or how to get from Barcelona airport to Barcelona cruise ship port please visit our Barcelona cruise ship guide.

Taxi prices Barcelona
Transfers to Barcelona cruise ships

There are plans to expand Terminal D on Moll Adossat with a new Terminal E on for cruise ships with 4500 passengers, which hopes to be operational in a few years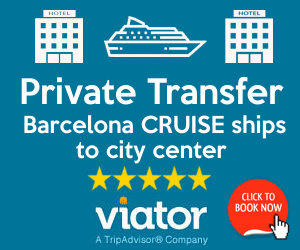 © Copyright Barcelonayellow.com.
Do not copy from this page without permission
All rights reserved


Last Updated on Monday, 08 October 2018 12:41