Biography Antoni Gaudi - Barcelona's famous modernist architect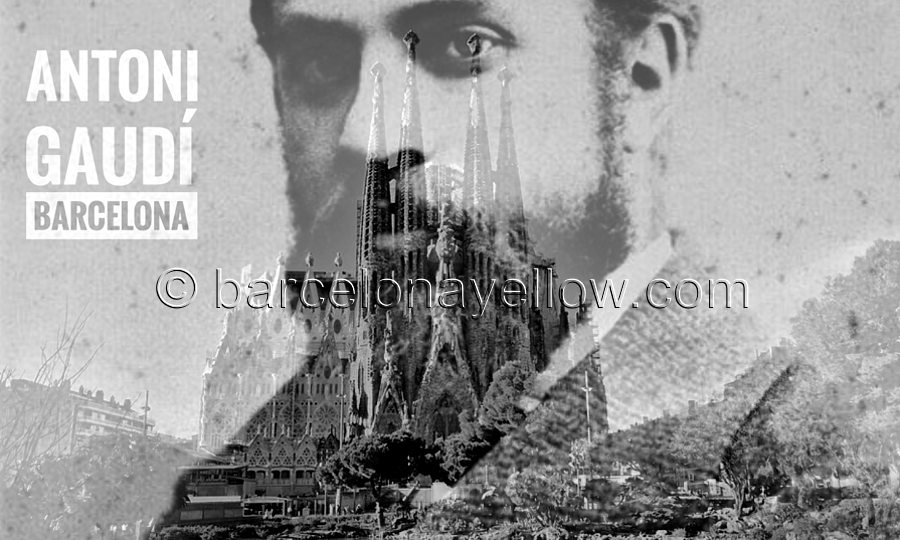 Antoni Gaudí
Barcelona's most famous modernist architect

Antoni Gaudí - full name Antoni Plàcid Guillem Gaudí Cornet - was a Catalan architect of Spanish nationality. He is Barcelona's and perhaps also Spain's most famous architect.

Seven of his most amazing structures in Barcelona are listed as UNESCO World Heritage sites, The Gaudí structures are visited by around 13 million people every year.

Antoni Gaudí was born one hour south of Barcelona in Reus in 1852. He died in 1926 when he was tragically hit by a tram. The still unfinished temple church of La Sagrada Familia is his most famous building in Barcelona.

At the time of this death he was working exclusively on this temple which is expected to be finished in 2026, a full century after his death. The current architecht is Jordi Fauli.

Famous Gaudí buildings Barcelona
Pictures La Sagrada Familia
Book Trencadis mosaic workshop
Book Gaudi tour
G Experiència Gaudí in 4D tickets
Modernist architecture
Where did Gaudi live?

Gaudí's full name was Antoni Plàcid Guillem Gaudí Cornet. He was born in 1852 in the town of Reus near Tarragona to the south of Barcelona in Spain in 1852.

Gaudí is the most famous architect of the Catalan modernist era. Gaudí's style was actually quite unique and unlike many of the other modernist styles of the time. Gaudí combined gothicism, surrealism and modernist styles in a uniquely peculiar and almost warped style, which can best be described as Gaudí'ism.

Gaudí said, 'The straight line belongs to man. The curved line belongs to God.'

Gaudí's believed that straight lines were the work of man, whereas curved lines were the work of nature and many of his most famous works reflect this search to create buildings that are in harmony with nature's shapes and forms.

Gaudí's first major project was the Mataró Cooperative (a project for housing factory workers), which was shown at the Paris World Fair in 1878. This project brought him a good measure of attention and led to a meeting with Eusebi Güell who was a leading industrialist of the time and one of the richest men in the world.

Guell would become a close friend and the biggest sponsor of Gaudí's work throughout Gaudí's career. Guell should be commended for his role in nurturing Gaudí's genius because he never attempted to impose limits or change on the architect's visions during the many years of their collaboration.

Photo below: Gaudí's unfinished church - La Sagrada Familia in Barcelona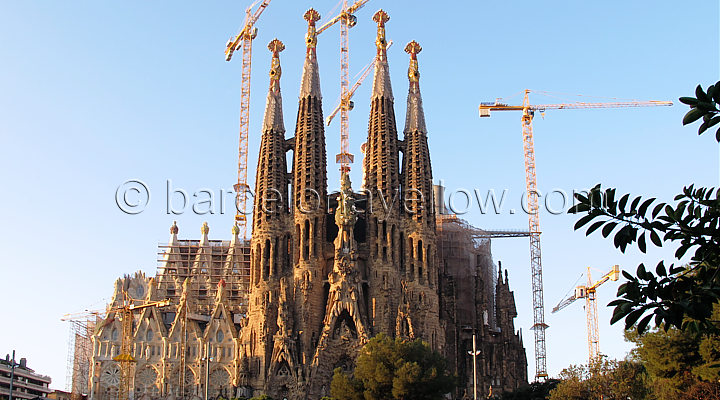 In 1882 Gaudí began work on his greatest - and still unfinished - building, which is the famous La Sagrada Familia church in Barcelona. This project was initially begun by Francisco de Paula del Villar, but taken over by Gaudí in 1882.

For the next 30 years, Gaudí worked on the Sagrada Familia basilica and on other projects simultaneously. From 1911 onwards and until his death, he devoted himself exclusively to the cathedral.


Photo below: Serpent bench at Parc Guell by Gaudí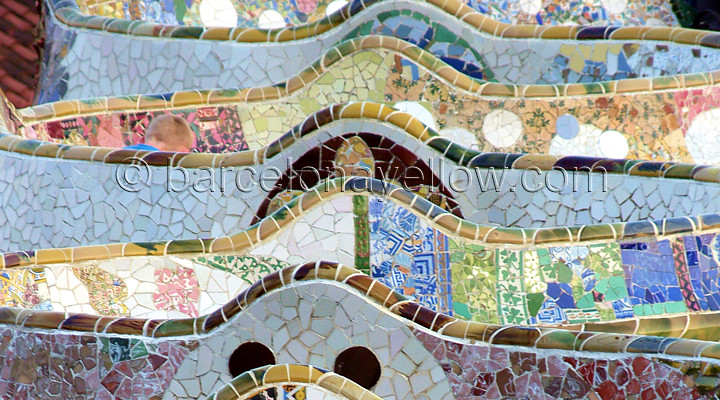 Gaudí was a lifelong bachelor, a vegetarian, an conservative and a fervent Catalonian nationalist. In his later years he lived with his father and sister in Park Guell.

However, both his sister and father passed away quite quickly after the family moved in to the house at Park Guell. In his final years Gaudí lived alone and preferred to spend much of his time in his studio at the Sagrada Familia.

Photo below: La Pedrera building on Passeig de Gracia in Barcelona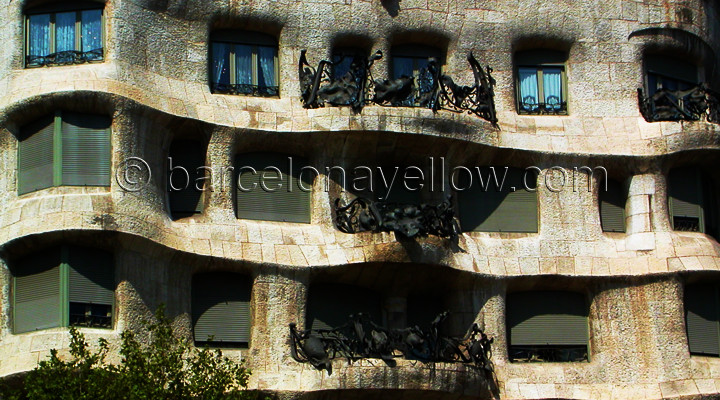 Gaudí's tragic death.
How and when did Gaudí die. Gaudí died a tragic death. On his daily walk to mass at the church on plaza Sant Felip Neri in the Gothic area of barcelona, Gaudí was crossing the tram tracks on the street and was hit by a tram.

The driver later testified that Gaudí was crossing the tracks and took two steps backward when he saw a tram coming, but then he was struck by a tram coming in the opposite direction.

Trams in those days only travelled at 10 kph, but the collision was to prove fatal. The date was 7th June 1926 and it happened on the street Gran Via between the streets of Girona and Bailen in Barcelona (click for map).

Gaudí was shabbily dressed and unkempt and was not carrying any identification papers and he was not recognized by anyone at the scene of the accident.

He was so shabby in appearance that local taxi drivers refused to take this injured 'vagabond' to hospital. The taxi drivers were later fined by the police for their inaction.

Photo below: Casa Batllo on street Passeig de Gracia in Barcelona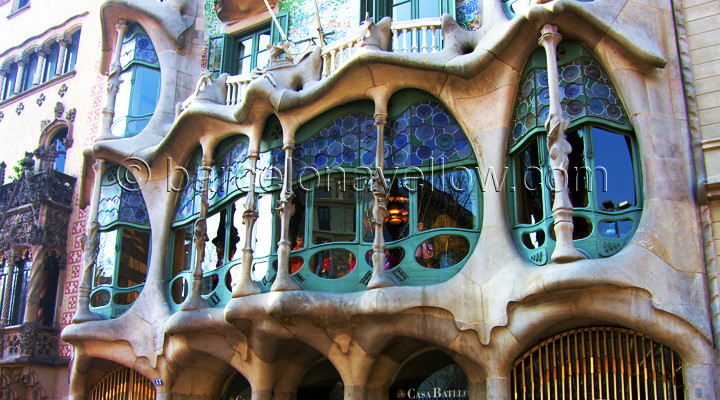 Gaudí was gravely injured in the tram accident, but was not recognised and because he looked like a homeless and poor person, he was taken to a Barcelona hospital for the poor called Antic Hospital de la Santa Creu i Sant Pau in the Raval district of Barcelona's old city near La Rambla street.

At the hospital he was still not recognised as the great architect and was given a bed with the indigent patients. His friends found him three days after the accident, on the 10th of June 1926, Gaudí died from his injuries. The last words Gaudí spoke were, 'Amen, my God, my God'. A death mask was made of Gaudí's face, which is on display at the Gaudí house museum in Parc Guell.


Photo below: Palau Guell roof on street Nou de la Rambla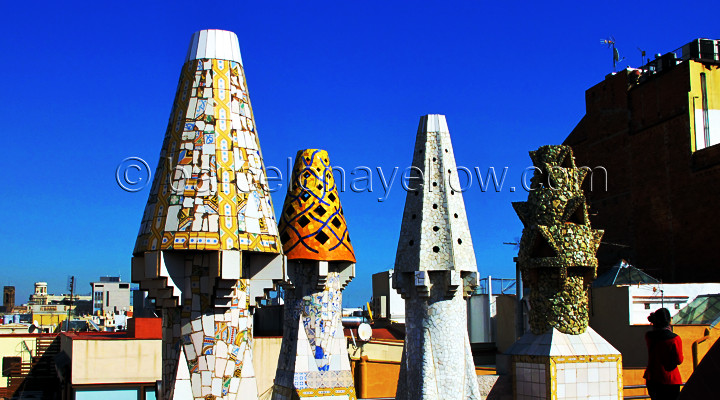 A huge number of Barcelona citizens attended Gaudí's funeral to honour him and to accompany his casket to his final resting place in his beloved masterpiece, the Sagrada Familia, where he now rests in peace in the crypt.

After 44 years of devotion to the construction of this temple, this was a fitting place for its creator to be interred as an inspiration to those who came after to complete this unique Barcelona landmark.

As is often the case with many visionaries, Gaudí was perhaps not truly acknowledged during his own lifetime. Official organizations refused many times to support or applaud his unique talent. The City of Barcelona tried many times to block or change Gaudí's works because ithey failed to conform to city regulations.

The only project the City assigned to Gaudí was that of designing street lamps which still stand on the Plaça Reial in the Gothic quarter. Gaudí received the Barcelona city "Building of the Year" award only once for his work on the apartment block Casa Calvet which is not considered as a significant work today.


Gaudí trivia
Where did Gaudí get his inspiration? When Gaudí was young he worked as an assistent on the Chapel of the Virgin at Montserrat mountain located 1 hour from Barcelona, which gave him inspiration later in life to base many of his designs on nature.

Ciutadella park fountain. Gaudí also worked on the cascade fountain in Ciutadella park.

New York Skyscraper. In 1908 Gaudí submitted an innovative design for a New York skyscraper hotel called Attraction Hotel. The Attraction Hotel project was commissioned in May 1908. Planned at a total height of 360 metres, it was perhaps too daring for its time. Little is known about its origin, and the project remained obscure until 1956, when a report by Joan Matamala i Flotats called 'When the New World called Gaudí' was published.

The drawings for the Attraction Hotel were proposed as a basis for the rebuilding of Ground Zero in Manhattan after the 911 tragedy.

Famous Antoni Gaudí quote. "To do things well, first you need love, second you need technique."
Gaudí and Dan Brown. Some of his most famous buildings in Barcelona are featured in the new book Origin by bestselling author Dan Brown, who also wrote 'The Da Vinci Code'.

Photo below: Attraction Hotel New York design by Gaudí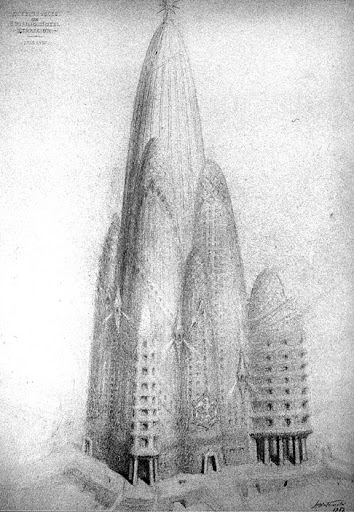 Barcelona's Gaudí UNESCO World Heritage Sites:

Park Güell
Palau Güell
La Pedrera (Casa Mila)
Casa Vicens
Sagrada Familia church
Casa Batlló
Crypt in Colonia Güell (outside Barcelona)
Bellesguard/Casa Figueres manor house


Modernism
Guide to modernist Barcelona
Other Gaudí works

Casa Calvet - closed to public
Colegio Teresiano - not open to public
Bellesguard/Casa Figueres manor house - partially open to public
Lamp posts on Plaza Reial
The dragon gate at Güell Pavilions
Portal Miralles. Gate of former Miralles estate


Photo below: Portal Miralles by Gaudí in Sarria area of Barcelona with sculpture of Gaudi.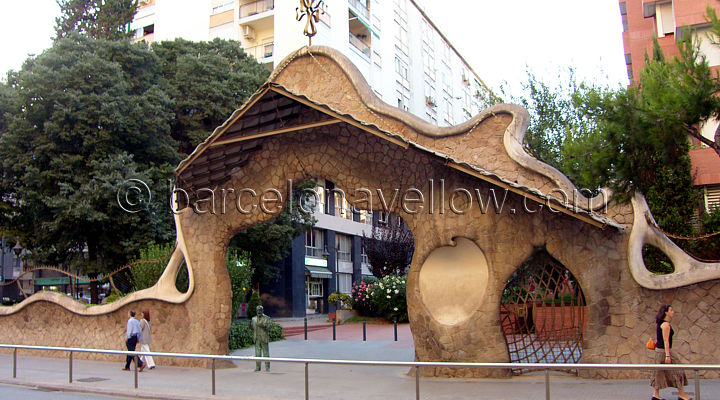 Related Gaudí pages

Gaudí Experience - 4D Gaudí
Make a Gaudí artwork -1 hour Trencadis classes in Barcelona
More Gaudí links
TICKETS Gaudí and Sagrada Família Tour


© Copyright Barcelonayellow.com
Do not copy from this page without permission
All rights reserved

Last Updated on Monday, 09 October 2023 10:51