Hotel Vueling Bcn by HC Barcelona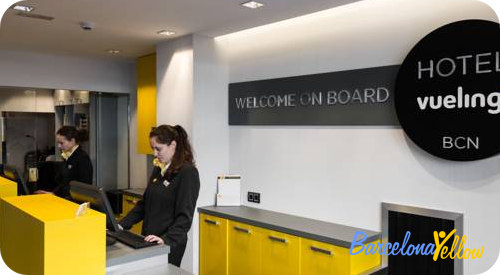 Hotel Vueling Barcelona by HC

Vueling hotel Barcelona. When you check into the new Hotel Vueling BCN by HC, it might feel like you are checking onto a flight, or as if you never got off your plane. The theme of the hotel Vueling BCN by HC is aeroplanes, flights and travel. So if you love flying and airports, you will love the Vueling hotel in Barcelona. This new hotel in Barcelona is a joint venture between Spanish airline Vueling and Hotels Catalonia and Vueling lends its name to the hotel. The hotel reception is modelled on Vueling airport check-in counters. Breakfast is in the La Terminal Cafe and guests can enjoy gourmet dinners in the A320C Gourmet Corner restaurant, which is themed like an aeroplane with pilots cockpit and portholes that are all blue skies and clouds.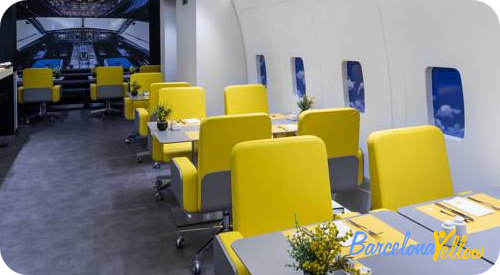 Book Hotel Vueling BCN Barcelona

Rooms and bathrooms at the Hotel Vueling are thankfully much more spacious than airplanes. Roioms feature modern design with flat-screen TVs with satellite channels, free WiFi and are comfortabley furnished. Hotel Vueling guests can also enjoy the outdoor swimming pool and gym.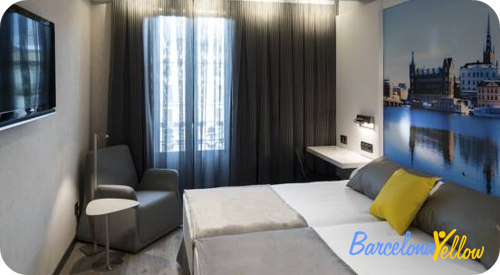 The Hotel Vueling Bcn has a central and convenient location on one of Barcelona's big thoroughfares Gran Vía and just a few minutes walk to metro stations Urgell and Universitat and near the airport bus stop. It's an easy 15 minute stroll to Plaza Catalunya and Las Ramblas and for exhibition visitors the Fira de Montjuic exhibition area and Plaza Espanya are just 2 stops away by metro.



Walkng distance from Hotel Vueling BCN Barcelona. Metro station Urgell on red L1, Metro station Universitat Red L1 and purple L2, Escriba pastry shop on Gran Via, Alaltea vegetarian restaurant,

Booking Hotel Vueling BCN Barcelona

© Copyright Barcelonayellow.com.
Do not copy from this page without permission.
All rights reserved


Last Updated on Tuesday, 05 November 2019 12:48