Best ski resorts near Barcelona. Skiing near Barcelona 2023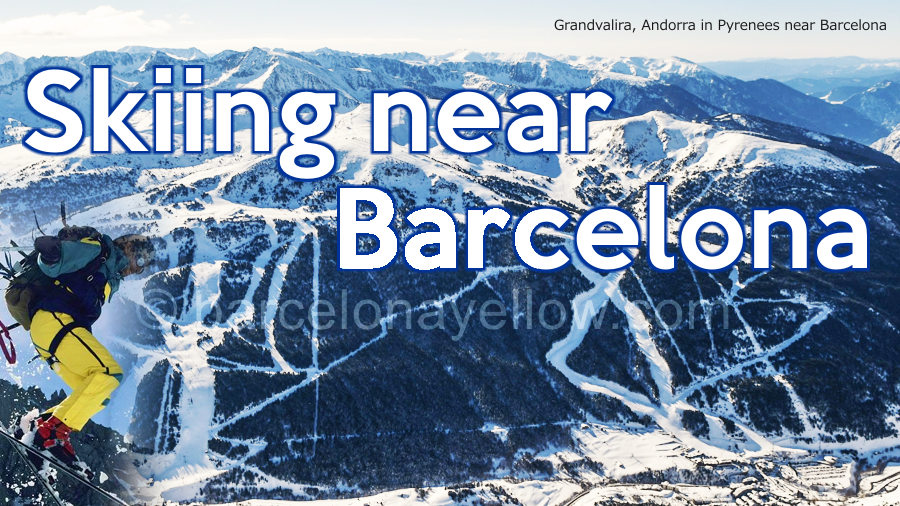 Skiing near Barcelona. Where to ski. Best ski areas.
Ski resorts and ski areas. Best places to ski near Barcelona in Spanish and French Pyrenees mountains.

Updated December 2023

Snow report: Some stations hope to open for the December 6th and 8th public holidays in Spain.

See where it's snowing right now on this page of ski station webcams in the Pyrenees and Iberian penisula.


Resorts near Barcelona

There are 14 excellent alpine ski resorts near Barcelona where you can enjoy skiing, experience snow and enjoy other snow activities.

The Spanish and Andorran resorts near Barcelona generally offer great skiing from the end of November until beginning of April.

Some of the ski areas are under 3 hours from Barcelona by car so very good for for 1 day-trips.

There are two large ski areas in Andorra, that are excellent for longer 2 to 7 day ski trips.

To get a quick overview of the snow situation in the Spanish and Andorra ski resorts check out our Barcelona ski resort listings and this webpage of Spanish ski webcams

The top ski areas that are most popular for 1 day skiing tours from Barcelona are ski stations Masella, La Molina which are in the Pre-Pyrenees mountain range of Spain.

La Molina and Masella can be reached in 1.5 to 2 hours by car from Barcelona and can also easily be reached by bus or train from Barcelona. There are ski-bus and ski-train packages in the winter to La Molina and Masella.

Masella also offers excellent night-time skiing.

1 day ski-bus La Molina/Masella

The biggest ski resort in the Spanish Pyrenees is Baqueira-Beret which is around 4 hours by car from Barcelona. To our knowledge 1 day ski tours from Barcelona to Baqueira-Beret are not available.

Andorra, which is a tiny country in the Pyrenees mountain bordered by Spain and France, has 2 large ski areas called Grandvalira and Vallnord. Grandvalira is the biggest of the two.

The driving times for skiing from Barcelona to Andorra's resorts are 3 to 4 hours. There are no 1 day ski tours from Barcelona to Andorra to our knowledge.


------------------------------------

Article continues under ad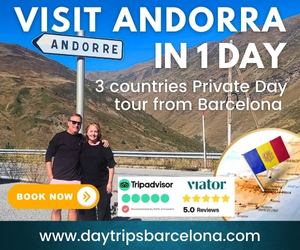 ------------------------------------


How is the skiing near Barcelona
Generally the skiing resorts close to Barcelona have great snow, uncrowded pistes and short lift queues. The Spanish resorts have high altitudes and a low tree line, so there are many free ride trails and off piste runs to enjoy.

The Eastern Pyrenees have 300 days of sunshine a year, so generally the skiing weather is sunny and nice. Prices are comparable to the Alps or cheaper.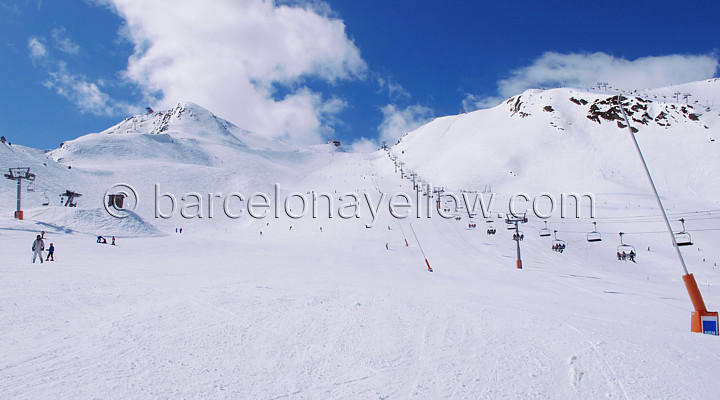 The after-ski scene is generally much quieter than the Alps. This makes skiing in Spain perfect for beginners and families.

If you want a lively apres-ski scene, then the Andorran resorts are probably your best bet with many UK skiers and a lively nightlife scene, particulary Pas de la Casa in the GrandValira area.

Be aware that smoking is still permitted in many bars and restaurants in Andorra.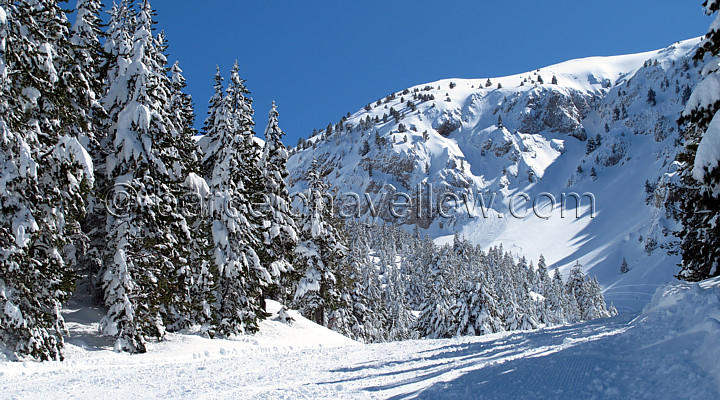 The ski season in Barcelona starts at end of November if there is early snow.

Generally many ski resorts near Barcelona are open before Christmas and many hope to be open in late November in preparation for the "puente" public holidays in Spain on 6th and 8th December.

So if you want some early skiing, then check our ski resort listings to see when the ski lifts are open and how many ski lifts are operational.

All the big resorts have snow cannons throughout the resort, so you can still go skiing, even if the fields on each side of the piste are sometimes bare.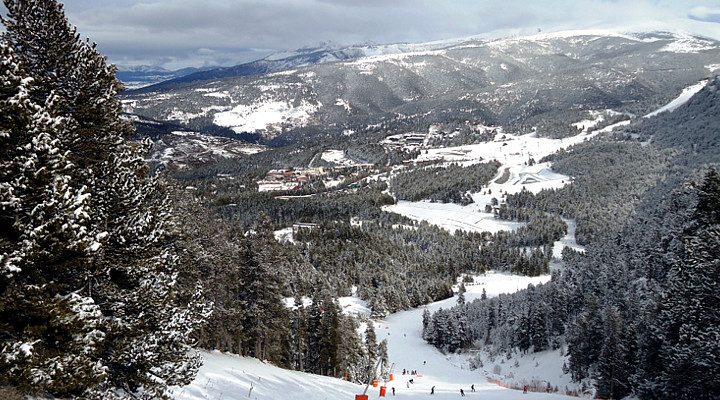 Closest ski resorts to Barcelona

The ski stations of La Molina, La Masella and Port del Comte are only 2 hours by car or train from Barcelona.

They are fantastic for a day trip or even a half day trip. La Molina has a "ski-tren" package which includes train and ski-pas (forfait), which you can buy at Renfe railway stations in Barcelona.

The skiing is excellent and if you can go to these ski resorts on weekdays, then you will have it all to yourself. At weekends it does get more crowded, but generally not as long lift lines as in the alps.

SKI tourLa Molina/Masella
There are many other very good ski resorts close to Barcelona and most are between two and four hours drive. The biggest and most exclusive resort near Barcelona is Baqueira-Beret. Baqueira-Beret is a bit far for a 1 day ski trip from Barcelona, but has great skiing for longer stays. Baqueira-Beret is around four hours drive time from Barcelona and is in 'El Pirineo de Lleida' part of the Pyrenees.


Lleida Pyrenees
The Lleida Pyrenees have 6 alpine ski stations all near Barcelona which are are Baqueira-Beret, Boí Taüll Resort, Port del Comte and three stations in the Ski Pallers ski area which are called Espot Esquí , Port Ainé and Tavascan.

The Lleida Pyrenees also has 5 nordic ski statons ( esquí nórdico) which are Aransa, Lles, Sant Joan de l'Erm, Tuixent-la Vansa and Virós-Vallferrera.

If you are looking for a ski station with both Alpine and Nordic cross country skiing then Baqueira Beret is a very good choice.

Tavascan has limited alpine skiing. Visit our ski directory to find a list of the skiing resorts near Barcelona. Each listing includes driving times, webcams, snow reports, piste maps, hotels and links to the ski station websites.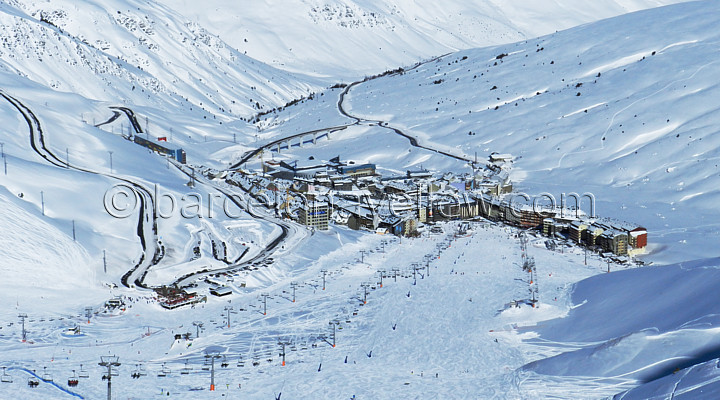 SKI bus/ski pack La Molina/Masella
Useful Barcelona skiing websites
Ski resorts near Barcelona.
Snow reports Spanish ski resorts
Ski sports shops Barcelona

For Barcelona residents looking for 1 day skiing trips or weekend skiing trips near Barcelona that include ski-pass hotel and transport, the best option is often to visit Spanish travel agents. They offer daytrips and weekend skiing packages by coach to the resorts in the Pyrenees. The travel agency websites are usually not in English however.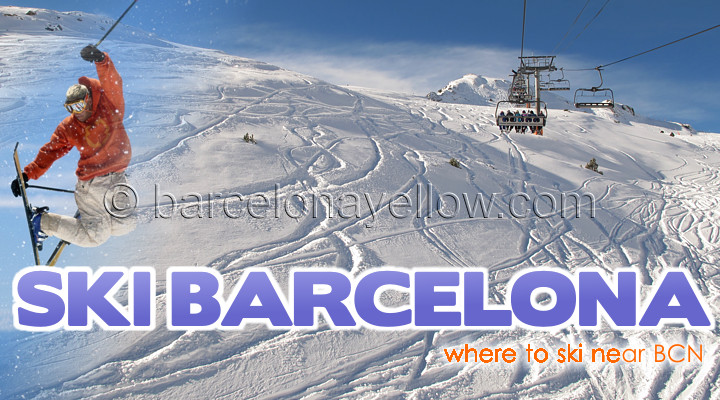 © Copyright Barcelonayellow.com.
Do not copy any text on this page without permission
All rights reserved


Last Updated on Saturday, 02 December 2023 17:24