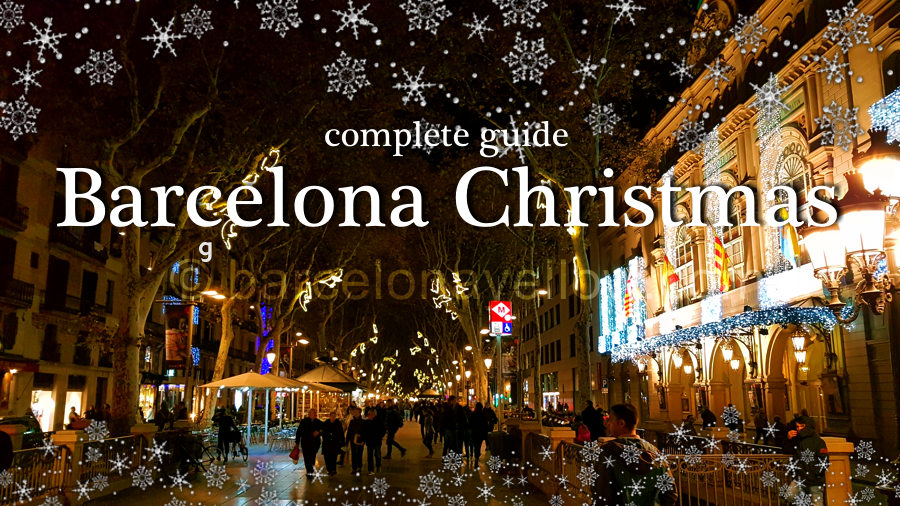 Barcelona Christmas Guide 2023

What's on for Barcelona Christmas tourists. Best things to do at Christmas in Barcelona for families with kids. Welcome to our Barcelona 2023 December Christmas Guide.

Scroll down to find Christmas dates, times, maps and tips for things to do at Christmas including Christmas fairs, Christmas markets, Christmas concerts, nativity crib scenes and many other festive activities.

Updated November 2023

Barcelona is a wonderful city for Christmas shopping and you might also be interested in what to wear in December in Barcelona and the Barcelona Christmas weather.

In the Catalan language 'Merry Christmas and Happy New Year' is: 'Bon Nadal i Feliç Any Nou.' In the Spanish language (Castellano) it's 'Feliz Navidad y Próspero Año Nuevo'.

The people of Spain and Catalonia observe the Christmas season in Barcelona with unique traditions and customs, culminating in the celebration of Three Kings Day (Epiphany) on January 6th.

In Barcelona and throughout Spain, Christmas is celebrated with a festive Christmas lunch on December 25th, Christmas Day. (El dia de Nadal / El día de Navidad)

The grandest Christmas festivities take place during the Kings' procession on January 5th and 6th, known as 'El Día de los Reyes,' when the Three Kings arrive to deliver gifts to the children.

The information below will be updated in November 2023

------------------------------------

Article continues under ad: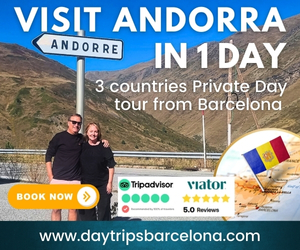 ------------------------------------


Guide to Barcelona Christmas traditions
Scroll down page to read about

❄ Christmas lights & trees
❄ Christmas weather Barcelona
❄ Christmas markets Barcelona
❄ Christmas food
❄ La Misa Del Gallo - Midnight Mass
❄ The Reyes Magos Parade Barcelona
❄ El Pessebre / belén - crib nativity scene
❄ El Caganer - the 'Christmas crapper'
❄ Tió de Nadal - The Christmas log
❄ L'Home dels Nassos – The Noses Man
❄ Barcelona New Year traditions
❄ Metro timetable Christmas & New Year
❄ Sports events Christmas


Christmas lights at Sant Pau



Els llums de Sant Pau. Light show at the fabulous UNESCO modernist Hospital Sant Pau museum buildings, designed by Catalan art nouveau architect Lluís Domènech i Montaner. For the third consecutive year, "Els llums de Sant Pau" will transform the Sant Pau Art Nouveau Site into the true epicentre of Barcelona's Christmas lights. And, you can enjoy the new Sant Pau ice rink inside the Sant Pau Art Nouveau Site, for a memorable ice skating experience surrounded by modernist architecture.

Els llums de Sant Pau will be open from November 21, 2023 to January 14, 2024 between 6:00 p.m. and 9:30 p.m., when the last session begins. The venue closes at 23:00. Exceptions are December 24 and 31, 2023 and January 5, 2024 when it will be closed. To make your visit more enjoyable, access will be in 30-minute intervals. Please show up at the time that appears on your ticket and log in within 30 minutes of the indicated time. Please check times here and buy tickets online



Christmas concerts
Barcelona has many classical Christmas concerts in December at the iconic Palau de la Musica concert hall, at the Liceu Barcelona Opera House and at the L'Auditori concert hall. You can also find December and New Year concert tickets on Ticketmaster.
On Christmas Eve there is a midnight mass at the majestic gothic basilica Santa Maria del Mar during which the "cant de la Sibil·la" is sung.

Visit our Barcelona events calendar to find our top picks for Christmas concerts and events.


Top Christmas activities

Port Vell Christmas market. Nadal al Port Vell. Port Vell harbour presents Barcelona Port Vell Christmas market featuring craft stalls, food stalls, childrens activities and workshops

Poble Espanyol Christmas. There is a Christmas event at the Poble Espanyol Spanish Village on Montjuic hill from from from 3 to 11 December, 17 and 18 December, 22 to 29 December (except 25 December) and 2 to 8 January. Activities include entertainment, a Christmas food fair, live music, Santa's Grotto and meeting the Three Kings.

The BusTuristic hop-on-hop-off bus has a special Barcelona Christmas Lights Tour through the most Christmassy parts of the city from 27th November to 2nd January. The Christmas Night Lights tour bus costs €10 and leaves Barcelona's central square, Plaça de Catalunya at 6pm or 8pm, except Christmas day when there will be no tours, and on November 25th and December 31st 2022 when there will only be a 6 pm tour. This tour is around 1.5 hours (without the usual hop-on-hop-off stops.) Dress warmly.

Barcelona's central square Plaça de Catalunya and nearby square Plaça de la Universitat host a Christmas festival from 17 to 30 December 2022 with an exciting two-week programme dance, music, digital arts and installations in the mornings, afternoons and evenings from 17 to 30 December 2022.

The Sants area of Barcelona welcomes you to a Santa Claus Christmas parade at 6 pm on Sunday 18th December 2022

PortAventura World is a big adventura theme park located 1 hour south of Barcelona which also features Ferrari Land. PortAventura World becomes a Christmas wonderland from mid November to 8th January and is a festive experience for children during a Christmas visit to Barcelona.

PortAventura World has several very nice resort hotels and a full programme of Christmas packages, activities and shows including an ice show, Christmas festival and Christmas Parade, special Christmas menus and exclusive shows. You can visit both parks on 1 day bus trip from Barcelona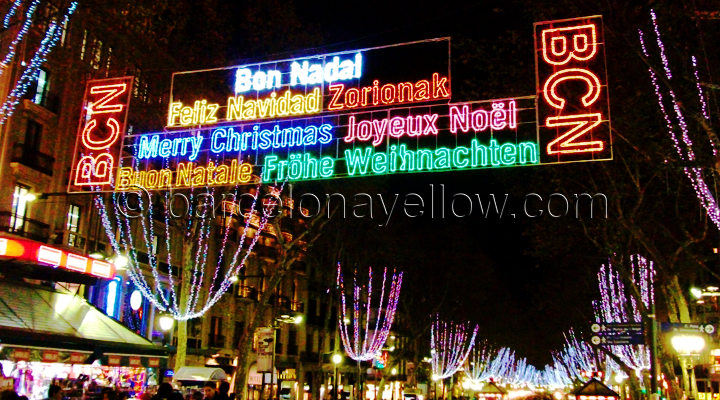 Christmas lights
The Barcelona Christmas lights are called 'Els llums de Nadal.' Christmas starts in Barcelona when the Christmas lights are turned on every year. Barcelona's Christmas lights are switched on at the end of November and stay on until 6th January. There are Christmas lights at almost 400 locations and streets covering a total distance of 104km.

The fabulous Montjuic Magic Fountain is also part of the Barcelona Christmas lights with a special Christmas water and music display in December between 8pm and 9pm on Fridays and Saturdays in December and early January. Remember to dress warmly for that! The Magic fountain also stars in the Barcelona New Year countdown show.


Christmas tree
There is a nice Christmas tree on Plaça de Sant Jaume in the gothic area where you can also find the official Christmas nativity scene which changes every year.


Ice skating
There are small Christmas ice skating rinks in Barcelona at the Tibidabo amusement park and at the Port Vell Christmas market. There is a permanent indoor ice skating rink at FC Barcelona football club


Christmas weather
Check our guide to what to wear in December in Barcelona. It's usually chilly, crisp and clear, so perfect for Christmas shopping. It very rarely snows.

The mid-day air temperatures in the shade in December are around 15 C / 57 F degrees and drop to between 6C to10 C / 42F to 50F in the evening. Pack a sweater, scarf and winter jacket for the evenings.

If you want to experience snow, why not book a tour to Snow day tour to Andorra in the Pyrenees mountains near Barcelona.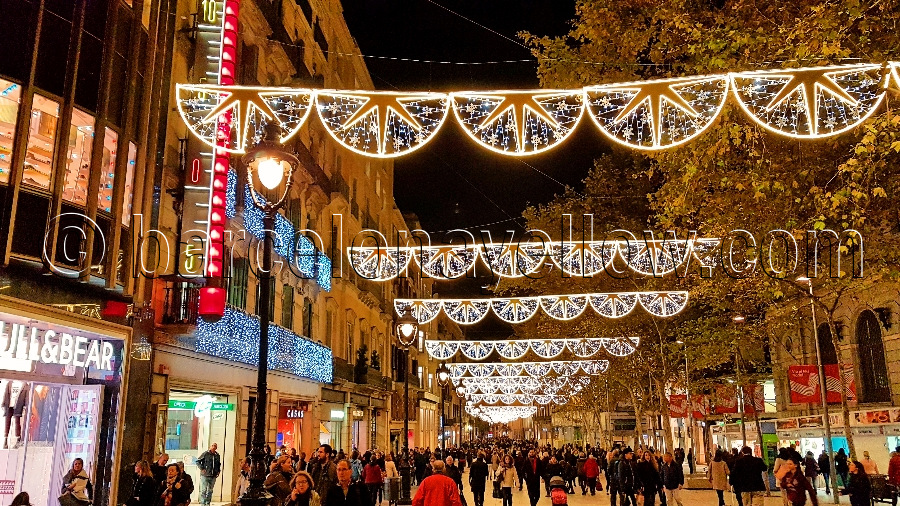 Christmas shopping Barcelona
Barcelona is one of the top European cities for shopping and Barcelona's Christmas shopping kicks off at the end of November with Black Friday offers all over the city. Don't miss a visit to top shopping street Passeig de Gracia.

Barcelona has extra Christmas shopping days on Sundays and some public holidays December. Shops choose themselves if they want to be open on public holidays and Sundays in December.

Many Barcelona city center shops and shopping malls in Barcelona will be open on the public holidays of 6th December and 8th December and many big stores will be open on every Sunday in December as part of the Barcelona Christmas shopping season.


Shopping 24th, 25th and 26th December
Some shops open all day on 24th December while some shops only open half of the day on 24th December. Barcelona shops are generally all closed on public holidays however which means shops are closed in Barcelona on Christmas Day 25th December and Sant Esteve Boxing day 26th December.

There are two Barcelona outlet malls outside the city. See our guide to Barcelona shopping areas and streets.

Article continues under ads



Christmas markets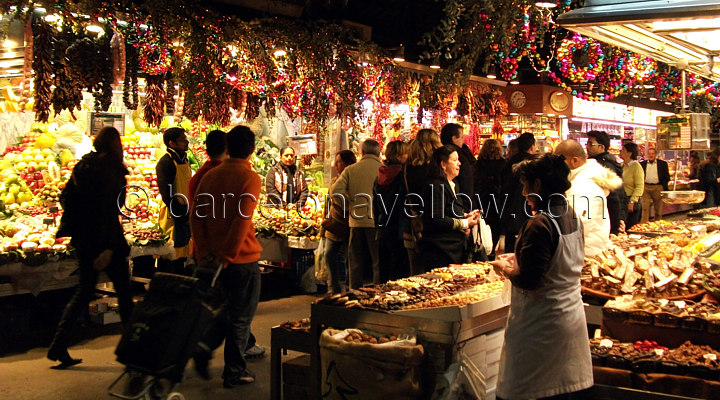 Barcelona's old city has many craft fairs during December and of course many Christmas markets.

The oldest, biggest and most traditional of the Barcelona Christmas markets is La Fira de Santa Llúcia - in Spanish 'Feria de Santa Lucia' in the gothic area on the Avenida de la Catedral in front of Barcelona Cathedral in the gothic area of Barcelona.

The earliest recorded Christmas market here was in 1786, making 2018 the 232nd edition. The Avenida de la Catedral and the small streets by the cathedral have almost 300 market stalls selling Christmas decorations and gifts.

Most stalls sell 'figuritas de Belén' which are the little figures to make your own crib scenes which are called 'pessebres'. There is also a stall selling the famous naughty caganer Christmas "pooper" figure which Catalans love to include in their nativity scenes.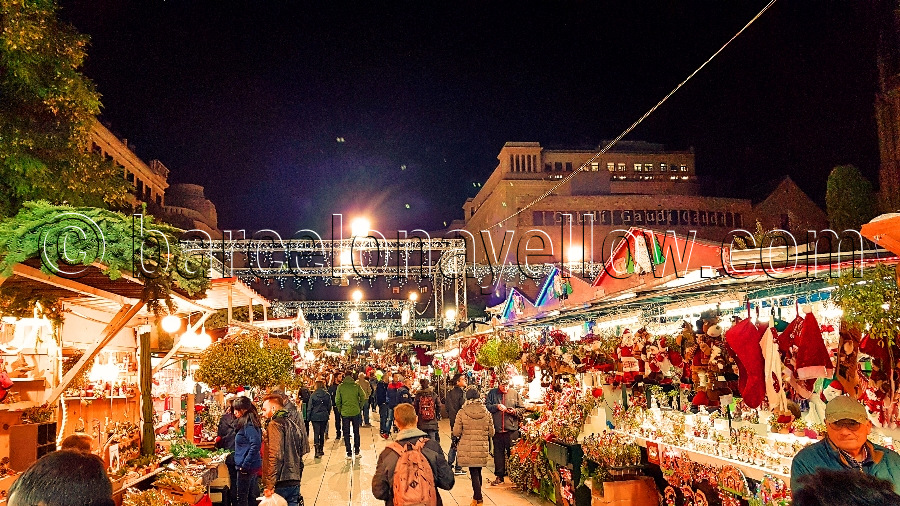 Fira de Santa Llúcia
Saint Lucia Christmas market
Event Dates: 29 November to 23rd December 2022
Opening times: open daily from 10.30 to 22.30.
Place: Avenida de la Catedral in gothic area
The Fira de Santa Llúcia is Barcelona's biggest Christmas market and located in front of Barcelona's cathedral in the Gothic quarter. Special days include 14/12 festival Diada de les tradicions nadalencs which has extra Christmas activities for children including the 'Christmas face' - 'Carassa de Nadal de Barcelona' and a Christmas concert. From end November there are special 'Tió gegant' activities for the children. 13th December is 'Dia de Santa Llúcia' - Saint Lucy.



Christmas Fair Poble Espanyol
Event date: rom 3 to 11 December, 17 and 18 December, 22 to 29 December (except 25 December) and 2 to 8 January.
Event times. various opening times
Event location: Poble Espanyol on Montjuic hill
Tickets: Adult: € 11 online, € 12 box office
Christmas event at the Poble Espanyol Spanish Village on Montjuic hill. Activities include entertainment, a Christmas food fair, live music, Santa's Grotto and meeting The Three Kings.



Fira de Nadal de Port Vell
Event date: December 5th 2022 to January 6th 2023
Event times. Various opening times
Event location: Portal de la Pau by Port Vell harbour

Port Vell Christmas market at Port Vell harbour This is a Christmas market featuring craft stalls, food stalls, childrens activities and workshops, a nativity scene and more.


Fira de Nadal a la Sagrada Família
Event date: End November to 23rd December 2022
Event times. daily from 10:00 to 22:00
Event location: Sagrada Familia church in Eixample area of Barcelona
Fira de Nadal a la Sagrada Família. Christmas market at Sagrada Familia church. Traditional Christmas market with 120 stalls at La Sagrada Familia church in Eixample area of Barcelona. On two Saturdays from 6 pm to 8 pm Santa Claus pays a visit to collect letters from the children and hand out balloons and cookies.



Three Kings Fair
Fira de Reis a la Gran Via
Event date: 19 December 2022 to 6th January 2023
Event times: from 11.00 to 22.00
Event location: On Gran Via street from streets Muntaner to Calabria
La feria de Reyes de la Gran Via, also called 'Sant Tomàs i Reis' (St Thomas and Kings) and also sometimes called the "Twelfth Night Fair," is one of Barcelona´s biggest Christmas and New Year markets for toys. The Fira de Reis a la Gran Via market has around 300 markets stalls with toys and traditional "Reyes" gifts like 'carbon de azucar' (candy coal).



Plaça de Catalunya Christmas fair

Place: Plaça de Catalunya & Plaça de la Universitat
Dates: 17 to 30 December 2022
Times: 11 am - 8.30 pm - can vary
Location: Plaça de Catalunya
Plaça de Catalunya and Plaça de la Universitat are the setting for an exciting two-week programme for all types of visitors: children, young people, adults, local people and tourists. Performing arts, music, digital arts and installations all make up the Barcelona Christmas Festival, through various universal languages accessible to all during mornings, afternoons and evenings from 17 to 30 December 2022. All this, with the common thread of Christmas and the energy unleashed during the cherished festive season.



Fira de Nadal de Sants
Place: Carrer Joan Güell - Plaça de Sants Map link
Dates: End November to 23rd December 2023
Fira d'artesania a la plaça de Sants - Sants Christmas market with stalls selling Christmas decorations



Festival de la Infancia


Place: Fira Montjuic exhibition centre - Halls 1, 2 and 3
Dates: 27 to 31 december 2022
Barcelona Children's Festival for children from 4 to 12 to enjoy more than a hundred educational activities in Spanish and Catalan.



Mercat de Nadal de Pedralbes
Place: Plaça Monestir de Pedralbes, Pedralbes area of Barcelona
Dates: Sunday 1st December 2019
Times: 10:00 to 18:00
Lovely 1 day Christmas market at Pedralbes monastery where you can also enjoy guided visits of the monastery and enjoy Christmas carol singing.

There are also very nice Christmas markets and fairs in towns and village near Barcelona and we can recommend the Fira de Nadal Caldes de Montbui usually on 1st and 2nd December


Barcelona Christmas food


Food Traditions. What do they eat at Christmas in Barcelona Spain? A typical Christmas dish is 'Escudella i carn d'olla'. This is a tasty bowl (escudella means bowl) of pasta shells 'galets' in a meat and vegetable stew or soup. Another typical Catalan Christmas dish is the delicious 'carn d'olla' which is a meat dish of stuffed capon or turkey.

A typical Christmas dessert in Spain and Barceona is 'turrón,' which is on sale at Christmas markets and supermarkets everywhere in Barcelona.

Traditional turrón is nougat made with almonds, hazelnuts and honey. Turrón now comes is many delicious varieties.

Christmas bread in Catalonia is called 'El Pa de Nadal' and is sold all over Barcelona at bakeries and supermarkets.



Restaurants
Not all Barcelona restaurants are open at Christmas. Generally the bigger restaurants and hotel restaurants are open for Christmas, but to avoid disapointment we recommend that you make a reservation.

About Escudella
Recipe escudella i carn d'olla
Catalan restaurants Barcelona



Shops
Most shops are closed both on both 25th and 26th December in Barcelona. For grocery shopping the OpenCor convenience stores have a selection of basic food items and are open on 26th December. Many small local convenience shops are open too.


'La Misa Del Gallo'
Midnight Mass on Christmas Eve

Midnight Mass is celebrated on Christmas Eve in Barcelona. The chiming of church bells summons families to the mass which is called 'La Misa Del Gallo' - The Rooster Mass.

This names derives from the belief that only time that a rooster crowed at midnight was on Christmas Eve when Jesus was born. The Midnight Mass is a charming service. You can attend midnight mass on Christmas eve at many churches in Barcelona. One of the nicest basilicas is the gothic Santa Maria del Mar church where you can hear the 5 minute 'El cant de la Sibil·la' just before midnight.

Another lovely Christmas Eve mass is 40 km northwest of Barcelona on Montserrat mountain at the Basílica de Montserrat in the Benedictine monastery perched on the steep cliffs of the Montserrat mountain range. At the Montserrat Christmas midnight mass you can hear the angelic voices of Europe's oldest boys' choir called L'Escolania de Montserrat.

Article continues under ads



Three Kings Parade Barcelona 5th January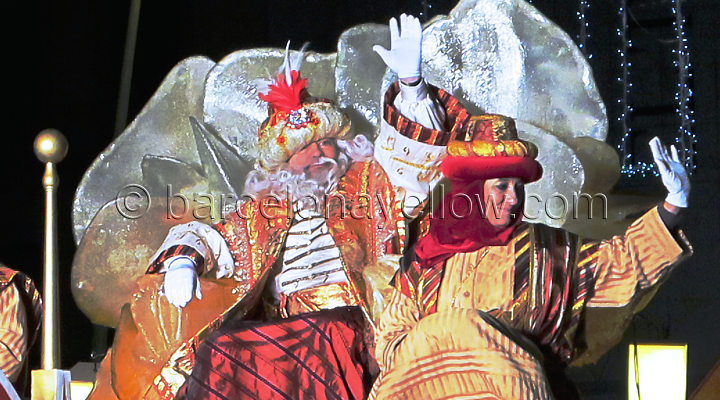 The most important Christmas days in Spain are the 5th and 6th January. The 6th January is the day when the Three Kings of the Orient bring gifts for the children. In Catalan they are called 'Els Tres Reis Mags d'Orient' Melchor, Gaspar y Baltasar - and in Spanish 'Los Reyes Magos' Balthasar, Caspar and Melchior.

The 5th January is called the Night of the Three Kings, the 'Cavalcada de Reis' in Catalan or 'Cabalgata los Reyes Magos' in Spanish. It's also called The Three Kings' Parade or the 'Twelfth Night procession.'

The 6th January is the day in Spain when children get Christmas presents. You do see Santa Claus in Barcelona malls but the Three Kings of the Orient are the main characters in Spanish Christmas celebrations in Barcelona and Spain. Spanish and Catalan children send letters to the Three Kings, not to Santa Claus.

Three Kings Barcelona parade 5th January 2023. Kings parade route and map. The Three Kings parade on 5th January is Barcelona's Christmas parade on the eve of the 12th day of Christmas.

The 12th day is also called Epiphany which is on January 6th - twelve days after Christmas. Ephiphany is the end of the Christmas festive season in Spain and Barcelona where Christmas is celebrated for the 12 days from Christmas Eve on December 24th, until the Epiphany on 6th January.



The 'Three Kings' Parade' is also known as the 'Twelfth Night procession and in the Spanish language it is called 'la Cabalgata de Reyes Magos' and in Catalan language it is called 'la Cavalcada de Reis Mags d'Orient'. Pictures Three Kings parade.


2023 Barcelona 3 Kings route map
Not updated yet



Open FULLSCREEN map Three Kings parade




16:00 5th January
Arrival Three Kings
The Three Kings arrive by ship at Moll de la Fusta dock at Port Vell marina MAP LINK onboard the 'Santa Eulàlia' ship which is the maritime museum's schooner (called a 'pailebot').

The Barcelona Major welcomes the Three Kings with bread and salt as a welcome symbol and gives them a key that opens all the Barcelona city doors, so that the kings can deliver all the Christmas gifts during the night of 5th January.

After the greeting festivities the Three Kings leave this location by car and go to the start of the main Kings parade 'Cavalcada de Reis'.

This starts at the Parc de la Ciutatdella at the park entrance on the street Av. Marques de l'Argentera in the Ribera/Born area of Barcelona.

Start 6pm - 18:00 5th January
Start of Kings parade 'Cavalcada de Reis'
The procession starts at Av. Marquès de l'Argentera by one of the gates to Parc de la Ciutatdella

End 21:15 5th January
Finish of Kings parade
The parade ends at Av. Reina Maria Cristina by Magic Fountain near Plaça Espanya MAP LINK

Approximate route times of 5km parade route
6 pm Start
6.20pm Plaça d'Antonio López
6.40 pm Plaça d'Antoni Maura
7.10pm Plaça d'Urquinaona
7.20pm Plaça Catalunya / Fontanella
7.40pm Plaça Universitat / Ronda de Sant Antoni
8.05pm Sepúlveda / Urgell
8.50pm Plaça Espanya / Av. Maria Cristina
9.10pm Av. Maria Cristina / Av. De Rius i Taulet


About Three Kings - Reyes traditions
The Three Kings of the Orient, are called Balthasar, Gaspar and Melchior in Spanish and in Catalan they are called Melchor, Gaspar and Baltasar.

The Twelfth Night, also called Ephiphany, celebrates the visit to the baby Jesus in Bethlehem by the Three Kings, (also called the Magi, or the Three Wise Men) and is a Christian celebration that dates back to the 4th century.

The word 'Epiphany' comes from Greek and means 'manifestation'. The Epiphany, or Twelfth night, signifies the manifestation of Christ to humans who were represented in the form of the Three Kings.

According to the Gospel of Matthew, the three kings followed a star across the desert which led them to the baby Jesus. According to the gospel of Matthew they gave Jesus symbolic gifts of gold, frankincense and myrrh.

The gold represented his royal standing; frankincense his divine birth; and myrrh his mortality. On their return journey they handed out gifts to children.

In Spain children write to the Three Kings, rather than Santa Claus. The Kings bring the children their presents on 6th January. The Kings' Day Parade is the biggest parade and procession in Barcelona and takes place on 5th January every year on the evening before Twelfth Night on the 6th January.

Children can deliver their gift wish lists to the Kings by post or by handing them to one of the eighty Kings' pages and messengers in the parade, the most famous of which are called Page Estel and Page Gregori.

The Kings pages are also all over the city in the Christmas period. In Barcelona can find them on Plaza Catalunya, at the Barcelona City Hall, at the Three Kings' postbox in the courtyard of the Palau de la Virreina, on 'Santa Eulàlia' schooner at Moll de la Fusta dock in Port Vell marina and at many shopping malls.

Children are also welcome at the Kings of Orients' toy factory at the Fàbrica de Creació Fabra i Coats (open from 27th December 2022 - 4th January 2023) in the Sant Andreu district of Barcelona. The Fabra i Coats factory opens its doors for Christmas, so that visitors can see the toy warehouse where toys are made and stored before being delivered by the Three Kings on the night of 5th January.

After the Kings' parade on the 5th January the next day 6th January is a public holiday in Spain. The 6th is the biggest Christmas gift giving day in Barcelona and Spain and the day that the children open their presents.

On 6th January the family enjoy a sweetbread Kings cake called 'Tortell de Reis' in Catalan language and in Spanish language called 'Roscón de Reyes' which means the Kings' ring. Inside the roscon cake bakers hide a tiny toy or trinket and a fava bean.

The person who finds the toy is King or Queen of the feast and the person who gets the fava bean has to buy the Tortell de Reis cake the following year.


About Barcelona Kings Parade
There are around 18 local Christmas Kings parades in different districts of Barcelona on 5th January and you can find them all on this map from the Barcelona Christmas website. An estimated 500,000 people go to see the biggest parade in Barcelona - the 'Cabalgata de Reyes Magos'. This is a three hour parade with a convoy of around 12 parade floats - called carrozas - which stretches almost one kilometre in total along a 5km route through the center of Barcelona also passing by Plaza Catalunya.

The Barcelona kings parade is a spectacular show designed and performed by professional artists from the world of theatre, music, dance and circus with volunteers, which are mostly students from 29 different arts schools in Barcelona but also just volunteers from local families.

Leading the parade are 'Els llancers de la Guàrdia Reial' The Royal Guard Lancers on horseback. In total there are about 1300 costumed participants, 12 big floats and around 26 dance retinues called comparsas. Each float has a theme and the themes change every year.

Around 7 tons of gluten free caramels are thrown from the floats during the parade. Small children can give the Kings pages their Christmas letters and also hand in their pacifiers or dummies - called xumets in Catalan - to the Kings' Xumeters - the dummie collectors.

Don't forgot to buy a Kings Cake - a sweet dessert bread called 'Tortells de Reis' in Catalan - 'Roscón de Reyes' in Spanish, which is eaten the night before or on King's Day. You can get them at all bakeries and supermarkets in Barcelona.

¡Felices Reyes! Bones Festes!

Pictures Three Kings parade


El Pessebre de Nadal - Spanish nativity scenes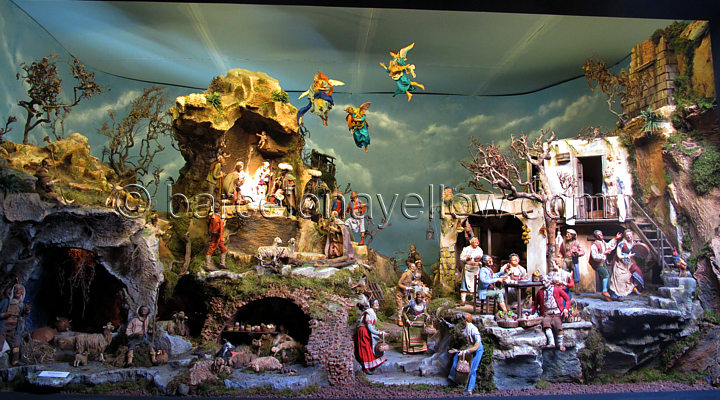 The pessebre is the Catalan name for the Christmas nativity scene. A Spanish and Catalan Christmas would not be complete without a nativity scene with palm trees, shepherds, three kings, Mary, Joseph and the infant Jesus. And of course the cheeky Caganer figure.

The nativity scene in Catalonia is called 'El Pessebre de Nadal.' The word Pessebre means 'stable' and El Pessebre de Nadal refers to the manger, or the crib, where Christ was born. It is called 'El Belén de Navidad' in Spanish or 'Belén de Judá' meaning 'Judean stable.'

The three most typical pessebre scenes are the birth of Christ in a manger, the Archangel Gabriel appearing to the shepherds or the star guiding the Three Kings to Bethlehem.

Traditionally the pessebre is assembled on St Catherines day on 25th November and taken down on 2nd February, which is the feast of Candlemas, which marks the midpoint of winter, halfway between the shortest day, the winter solstice, and the longest day, the spring equinox.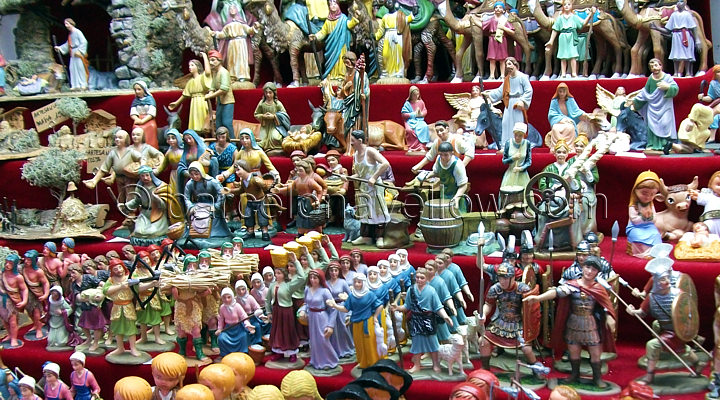 Crib scene displays can be found many places in Barcelona on plazas, in churches and in most Catalan homes, both in miniature form and also living nativity plays called 'pessebre vivents.'

The official Barcelona outdoor nativity scene pessebre is the Pessebre a la Plaça Sant Jaume in the Gothic quarter of Barcelona.

It is open from end November to 6th January from 10:00 to 22:00 daily. This year's Plaça Sant Jaume nativity scene has a modern interpretation by Jordi Darder.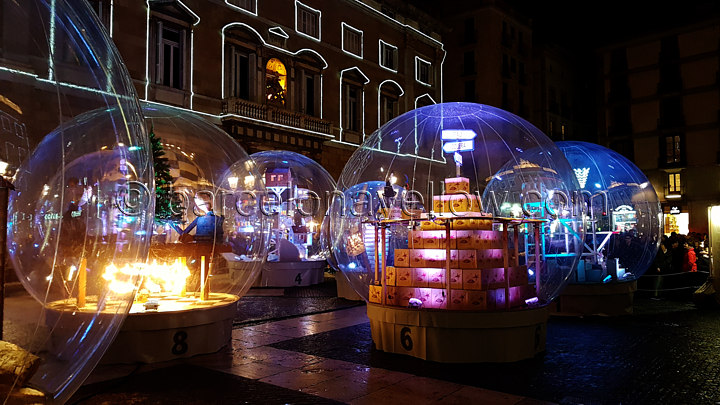 below the nativity facade of the unfinished Sagrada Familia basilica church by Antoni Gaudi.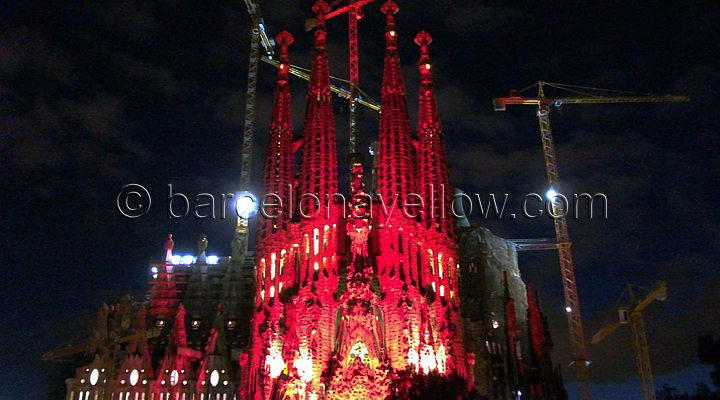 Where to see Barcelona Christmas Pessebres?
Open-air pessebre Plaça de Sant Jaume end November to 6th January
Cathedral La Seu cloister - entrance from Carrer del Bisbe
Pessebre at Museo Frederic Marés - classic monumental nativity scene in the courtyard of the Museu Frederic Marès. The 2019 nativity scene is inspired by Montserrat mountain.
Mid-December to mid-January at Basílica de Santa Maria del Mar
Mostra de Pessebres de la Parròquia de Betlem church La Rambla 107
All December and early January at Casa de la Pia Almoina Av. Catedral 4
Sagrat Cor de Jesús del Tibidabo church on Tibidabo hill all December
Museu Monestir de Pedralbes Pedralbes monastery all December



'El Caganer' The Christmas crapper
Among the figures in a Catalan Christmas 'pessebre' nativity scene, you will find a funny little fellow, called 'El Caganer,' which is a unique and quite strange Catalan Christmas tradition, which is said to bring good luck.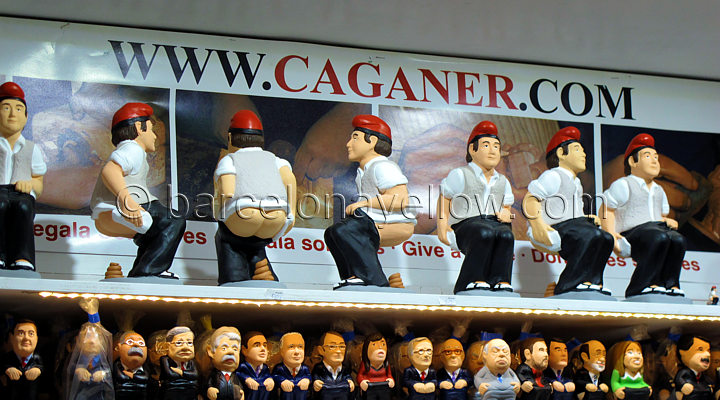 'El Caganer' is the cheeky figure of Catalan navitivy scenes. 'El Caganer' literally means the 'crapper' or 'shitter' or the 'pooper'.

So he is often called the Christmas crapper in English! The Caganer is a an elf or gnome-like figure wearing the traditional Catalan red beret 'barretina' who drops his trousers, bares his backside, and defecates to 'fertilize' the soil!

Very checky guy! He or she can usually be found somewhere in the nativity scene if you take a closer look.

The origins of 'el Caganer' are a bit murky, but apparently the 'Jule Pooper' has been dropping his britches since the middle of the 19th century at least. He is a very popular fellow in Catalunya and thought to bring good luck.

'El Caganer' can be seen in in many forms and in recent times many famous and public figures, including world leaders and pop stars, have the honour of being portrayed as a Christmas Caganer with their pants down at Christmas.

Among the new caganer figures in 2019 are Caganer Antoine Griezmann, Caganer Rosalía, Caganer Luke Skywalker, Caganer Greta Thunberg among others

The caganer figurines are all handmade and cost from €5 to €20 per figurine depending on size. Visit Caganer.com to see the new 2022 Caganer figures.
Or see all the new caganer figures at their stall at the Santa Lucia Christmas market at Barcelona Cathedral.
Read more about the Caganer Christmas figure.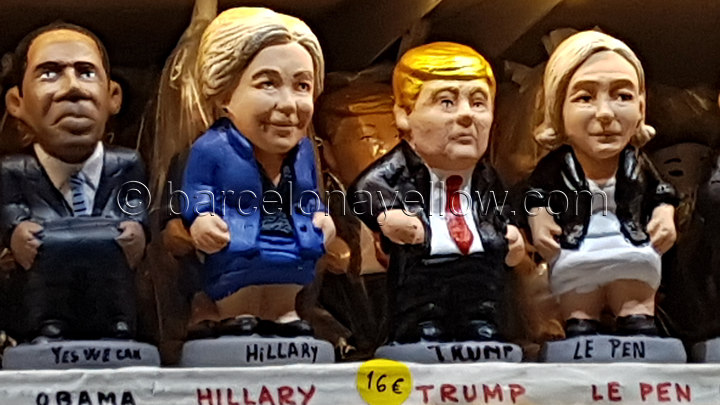 There was a suggestion by the city council in 2005 to leave the 'caganer' out of the Plaça Sant Jaume official pessebre nativity scene. It was felt that the caganer was politically incorrect, especially when Barcelona is trying to encourage nightlife revellers not to use the streets as public toilets.

The many protests against a proposed caganer ban and the idea was dropped. So the caganer can usually still be seen in the pessebre on Sant Jaume. See if you can spot him.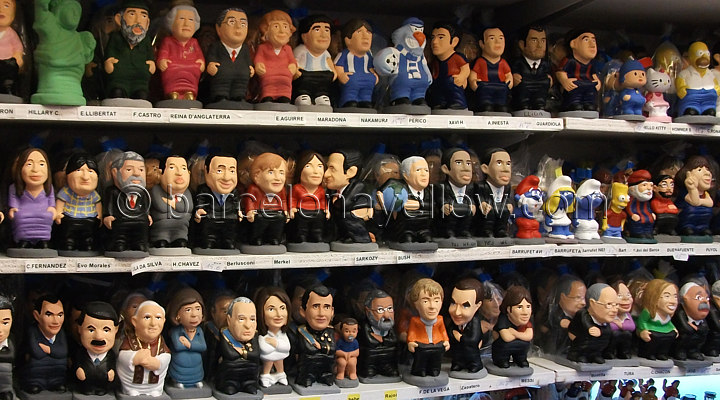 Tió de Nadal - Caga Tió - Christmas log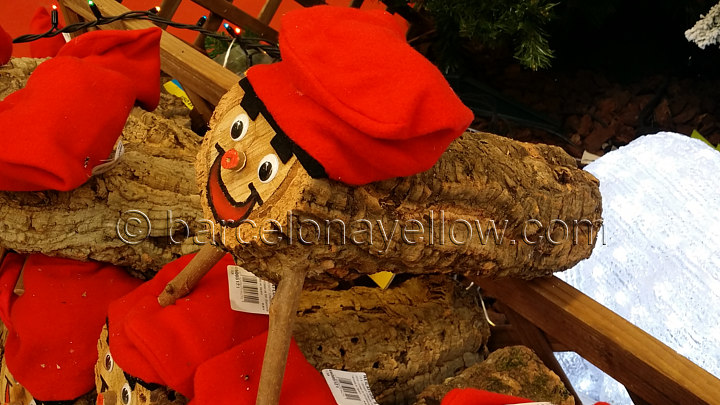 More pooing for Christmas in Barcelona. Another odd fecal Christmas tradition in Catalonia is the 'Tió de Nadal' which is often called the 'Caga tió'. In this context the word 'Tió' is a Catalan word which means 'log.' In Spanish 'Tio' means 'uncle' or 'fellow'.

So 'Tió de Nadal' means 'Christmas log or trunk', not 'Christmas uncle' or 'Christmas guy.' Caga Tió means 'shit log!' :-) The 'Tió de Nadal' Christmas log is a hollow log or tree stump standing on stick legs with a very happy face painted on one end. It wears the typical Catalan barretina red hat.


You can buy Tió de Nadal logs in all sizes at Catalan Christmas markets and you can often see a big Tió de Nadal at children's Christmas events. The Christmas log is also called 'Caga tió' which means 'Poo log!'

What is the Cata Tio tradition and why is it called "Poo log"?

It works like this. The Christmas log is 'fed,' pampered and looked after by children from the 8th December ( the day of Immaculate Conception called 'Dia de la Immaculada Concepció,') and until Christmas Eve 24th December. The Caga Tió even gets a blanket to keep it warm at night.




On Christmas Eve you put the Caga Tio almost in the fireplace. The children sing the 'Caga Tió' song to get the log to 'poo' some presents. While they are singing they hit the log with a stick. When the song is finished with a final load cry of 'Caga Tió!' ( = the imperative tense of the the verb 'to defacate,' so it means 'Shit log!')

The children then leave the room to pray for presents giving the parents the opportunity to put some presents in the hollow log or under the blanket.

Then when the children come back they can get a present, which the log has pooed! Generally the present is candy and turron nougat and maybe one gift, as the main bulk of Christmas gifts for children in Spain are delivered on 6th January by the Three Kings. When the log has nothing left to 'shit', it finishes the deed with a salt herring, a head of garlic, an onion, or it 'urinates' by leaving a bowl of water.

The Caga tió are generally regarding as communal gifts to be shared by everyone. After the log has finished crapping presents, if you have a fireplace, you can burn the 'Tió' log after or just keep it for next year.

The Caga Tió traditions is a tradition with origins that go back centures to times when the fire was a central and important part of family life. The ashes of the burnt log were kept and spread by crops and near the stable and even on the beds as a rite to promote fertility.


'L'Home dels Nassos' – Noses Man
New Year's traditions in Barcelona. 'L'Home dels Nassos' is a fun Catalan tradition. On New Year's Eve 31st December, also called the day of San Silvestre or Saint Sylvester, the 'L'Home dels Nassos' roams the streets handing out candy to the children.

The Nose man has as many noses on his face as there are days left in the year. Many children mistakenly expect to see a man with 365 many noses on his face - one for each day of the year. But of course on the last day of the year, he only has one nose. IN 2016 children can the Nose man at 12.45 on Plaça Catalunya. San Silvestre is also the name of a popular 10 km San Silvestre run in Barcelona on the last day of the year in Barcelona - and also on 31/12 at noon there is a children's party on Passeig de Gracia called Festa infantil de l'home dels nassos.
Read about Nassos - Noses man (in Catalan)


Ice skating rinks Christmas
There are two permanent indoor Barcelona ice skating rinks, one in the Eixample area and another at FC Barcelona stadium Camp Nou.


El Gordo Christmas lottery
The Spanish Christmas lottery El Gordo is the biggest lottery in the world. It is drawn on 22nd December every Christmas.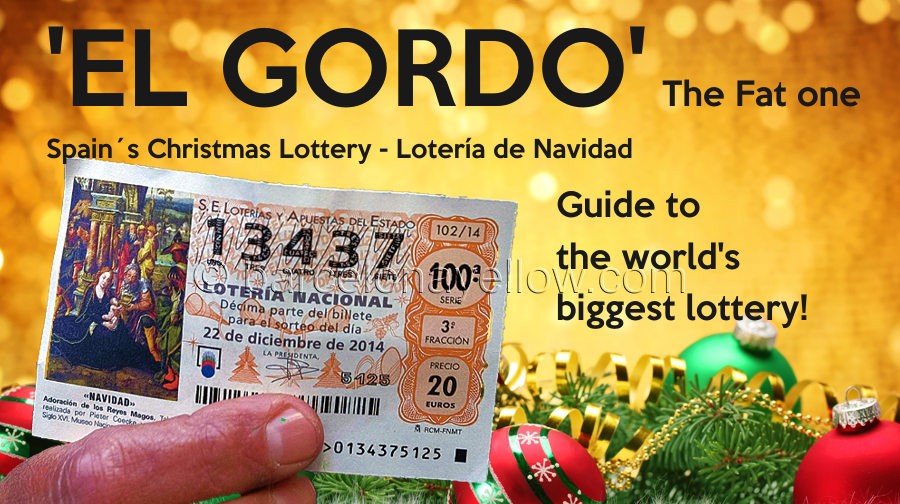 New Years' Eve in Barcelona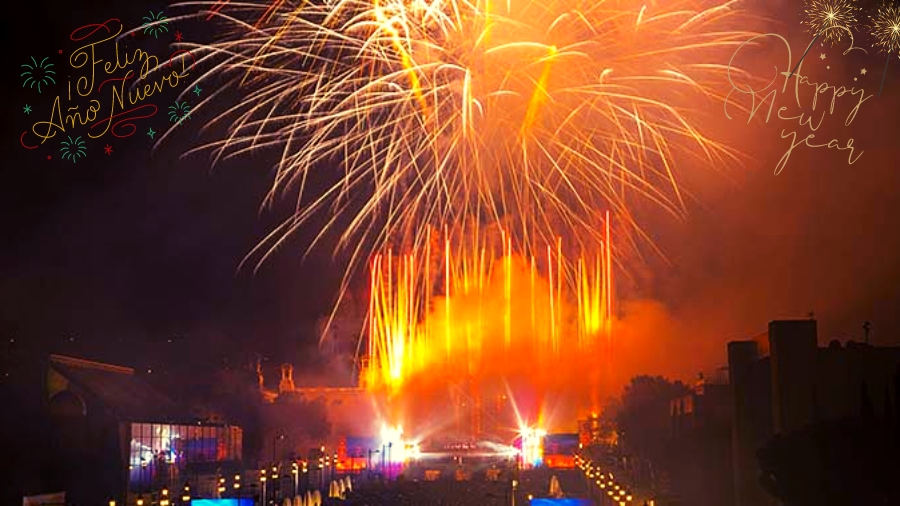 New Years Eve Parties and traditions.
New Years Eve is celebrated in Spain with food and parties. Barcelona has an official New Years Eve event in 2022 from 9.30 onwards at the Magic Fountain on Pl. Espanya called 'Las Campanadas de Fin de Año Barcelona' - the Barcelona New Year Chimes celebration.

This new years event at the Magic Fountain near Plaza Espanya opens at 9.30 pm but the main event is 45 minutes from 11:30 until 0:15 and consists of a main stage with two big screens for the countdown and music, fireworks display at 23.45 and the Magic fountain light and water display.

This is a free public family event. Get there 30 to 60 minutes early for a place close to the fountain and fireworks. There is only standing room. You can see the fireworks from the whole avenue in front of the fountain. Glass bottles are not allowed and might be confiscated.


New Year Parties Barcelona
There are many New Year Parties in Barcelona and we list some of the biggest clubs and parties on our events page about Barcelona New Year parties with some of the best parties at top clubs as we get closer to the 31st December.

Most people choose to celebrate at bars, clubs and restaurants in Barcelona. All the top clubs and many hotels have New Year Parties. Visit our Barcelona nightlife page to find parties.

At parties or at home many turn on the live transmission from Madrid's central square, the Puerta del Sol, at midnight to see the 12 chimes that take Spain into a New Year. Fireworks generally do not play a major part in private New Year celebrations in Barcelona.

What happens in Spain when the bell chimes for New Year?

In Spain and Catalunya at midnight everyone eats twelve grapes, one grape at each strike of the bell counting down to the New Year. Then one toasts the new year with Spanish Cava which is sparkling wine, like champagne. According to an excellent book about oddities in Spain called 'In the Garlic' this tradition is explained as follows:

"As for the grapes, you might imagine that the custom of eating twelve lucky uvas at midnight on December 31 dates back to ancient times. In fact, it was dreamed up by Valencian grape-growers in 1909 as a way of getting rid of an extra-bumper crop. One grape after each chime of the clock to give thanks for the past year's good luck and in anticipation of the lucky year to come.

A hundred years is a short time when it comes to gene development, but it seems the Spanish have already honed the how-to-eat-12-grapes-in-12-seconds-without-choking gene. Actually, they cheat. The Puerta del Sol clock in Madrid , which everybody watches on TV, is slowed down to a more digestible one strike every three seconds."


Sports events Christmas Barcelona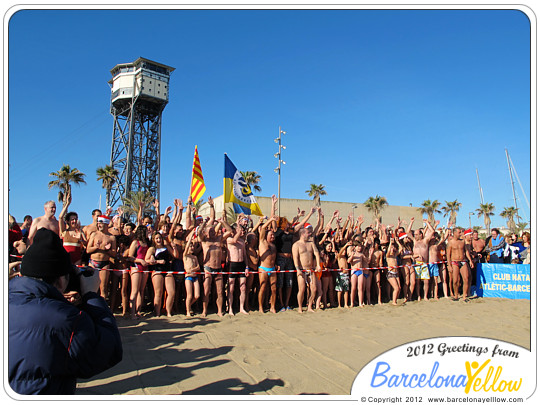 Buff Epic 10k Obstacle Race December
Christmas day harbour swim
New Years Day swim 1st January
Restaurants
Many restaurants open during Christmas and New Year. We have listed some NY events on our New Year Barcelona event page, but please note that there are many more restaurants in Barcelona that open during the Christmas holidays, so we advise you to check daily papers and restaurant websites for details of their opening times and Christmas and New Year events.



Barcelona Metro times Christmas
Christmas Eve: 24 December
metro closes at 11.00 pm.

Christmas Day: 25 December
metro closes at 02.00 am.

St. Stephen's Day: 26 December
metro closes at midnight.

New Year's Eve
continuous metro service Monday 31 December to Tuesday 1 January.

New Year's Day: Tuesday 1 January,
metro closes at midnight.

5 January 2023 - night before Three Kings
continuous metro service all night.

6 January 2023 - Three Kings
metro closes at midnight.

Christmas transport timetables
Night buses Barcelona


We wish you all a Barcelona Happy Christmas!
Bon Nadal i Feliç any Nou!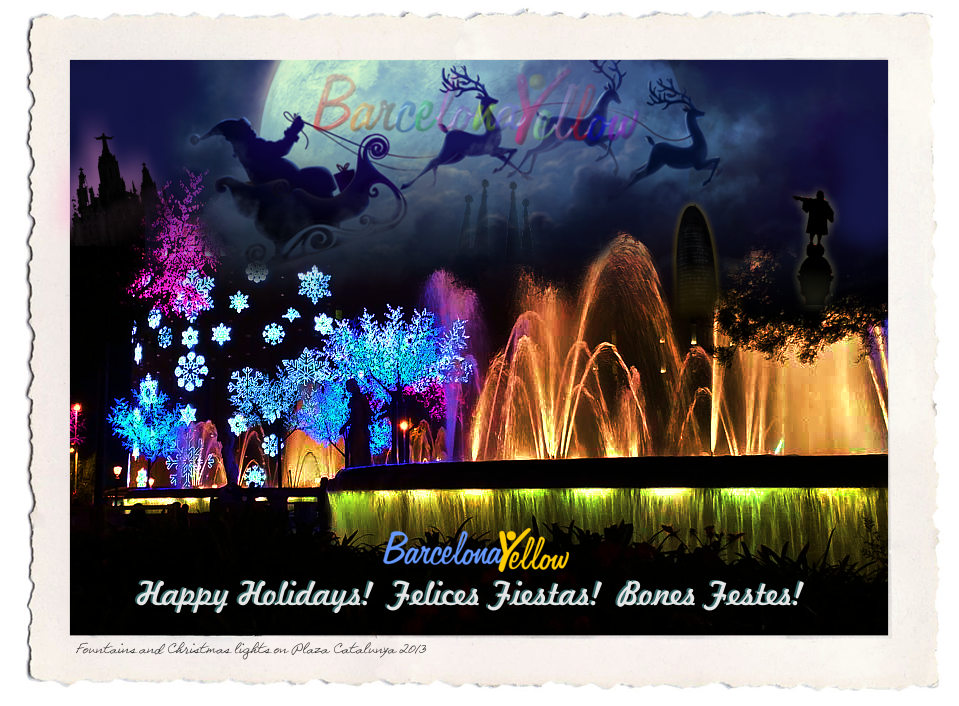 Pictures Barcelona Christmas
Barcelona Christmas website

© Copyright Barcelonayellow.com
Do not copy any text or images on this page without permission.
All rights reserved.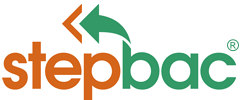 This page sponsored by the Stepbac method - Stepbac to feeling better.

The Stepbac method is a series of easy and clear self-help books which teach a simple method to change unhealthy lifestyle habits and take back control of daily health, well-being and happiness.

Available on Amazon
Stepbac from Smoking
Stepbac from Overeating
Stepbac from Smartphones

© Copyright Barcelonayellow.com
Do not copy from this page without permission
All rights reserved.