FAQ. What kind of green parrots lve in Barcelona?
FAQ. What kind of parrots live in Barcelona?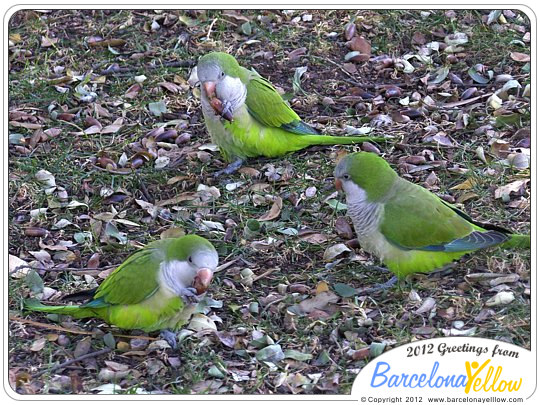 What are the green parrots called in Barcelona? They are called Monk Parakeets.

You can often see the small green parrots in the palm trees of Barcelona. They often make a loud chattering sound. Look at the top of the trunk to spot them. These little green birds are called Monk parakeets and are a species of parrot. They can be seen in several Spanish cities including Barcelona, Madrid, Tarragona and on the Canary Islands and Balearic Islands. Monk Parakeets generally only live in urban areas and you can find hundreds of them in Barcelona. They are easiest to spot in the palm trees on the avenue Av Diagonal and in the biggest urban park in Barcelona called Parc de la Ciutadella.
Read more about Monk parakeets on
Wikipedia
More FAQ - frequently asked questions about Barcelona
© Copyright Barcelonayellow.com

Do not copy any text or images on this page without permission
All rights reserved.
Last Updated on Thursday, 27 October 2016 22:02