Where is the Canaletes drinking fountain?
Where is the fountain La Font de Canaletes in Barcelona?

Where is the 'FC Barcelona' fountain on La Rambla? it is near the top of La Ramblas street in Barcelona just a few steps from central square Plaza Catalunya

This fountain is famous for two reasons. One is the legend that if you drink the water from the fountain, then you will always come back to Barcelona.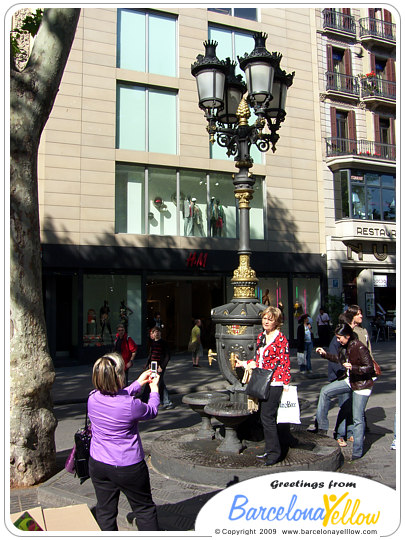 The other reason it is famous is because this is the fountain where fans of FC Barcelona football club gather after winning major football title victories.

It is called the Canaletes fountain and it is near the top of La Ramblas street in Barcelona just a few steps from central square Plaza Catalunya

The local name is 'Font de Canaletes - click on the link below for a map location.

Map Font de Canaletes
La Font de Canaletes is located at the top end of La Rambla street in Barcelona. It is a drinking fountain and lamp-post near the top end of La Rambla street on the section called Rambla de Canaletes which is near Plaça de Catalunya.

The fountain itself is not very unique in any way. The present Canaletes fountain is from the late 19th century when it replaced an older fountain that dated back to the 16th century.

The fountain is named after old 14th century northern wall of the city which was called Canaletes (the old city walls do not exist any more) because of the water pipes that went through it to supply the medieval walled city of Barcelona with water.

This article continues below ads


The present day La Font de Canaletes fountain is famous for two reasons. The first reason is that there is a legend that if you drink the water from the Canaletes fountain then you will always come back to Barcelona.

There is even a small brass plaque in the ground by the Canaletes fountain to warn visitors that if they drink they will come back one day. The water is very safe to drink so do not be afraid to drink from the fountain. It might work!

The Canaletes fountain in Barcelona is also famous because the fans of Barcelona's famous football team FC Barcelona traditionally gather here to celebrate the team's title victories after Barça football matches. They have done this since the 1930s.

Pictures Las Ramblas
Plaza Catalunya
FC Barcelona football club

© Copyright Barcelonayellow.com.
Do not copy from this page without permission.
All rights reserved


Last Updated on Thursday, 14 February 2019 16:21