Barcino. Pictures Roman city Barcelona - Roman walls
Barcelona Roman walls and remains

Pictures of Roman walls and remains of the Roman city of Barcelona called Barcino. The full Roman name for Barcelona in Roman times was Colonia Iulia Augusta Faventia Paterna Barcino. The Roman town of Barcelona was founded in 14 A.D.

Map remains Barcelona Roman walls.

Barcelona does not have a Roman festival, but you can find Roman festivals near Barcelona in May every year. Badalona organises the Roman festival Magna Celebratio and Tarragona which is 1 hour south of Barcelona also organises an annual Roman festival called Tarraco Viva


Below you can see an artists impression of Roman city of Barcino with Montjuic hill is in the background. Fragments of the Roman walls and Roman ruins of Barcino are still visible in modern day Barcelona.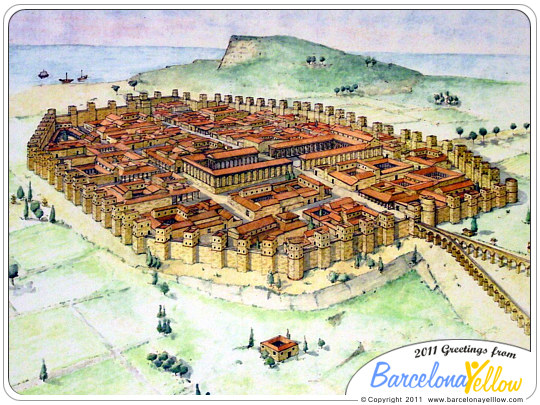 Artist's impression of the Roman city of Barcelona.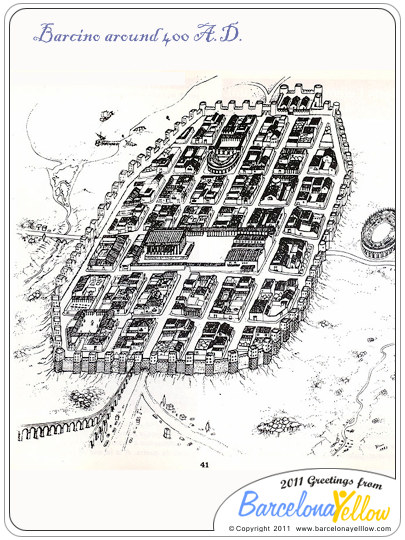 Map location of Roman walls of Barcino in relation to present map of Barcelona.
Map Roman walls Barcelona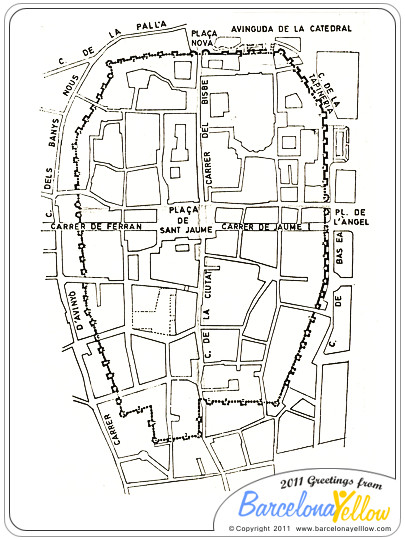 Below: Layout of the Roman city of Barcino founded in 14 A.D.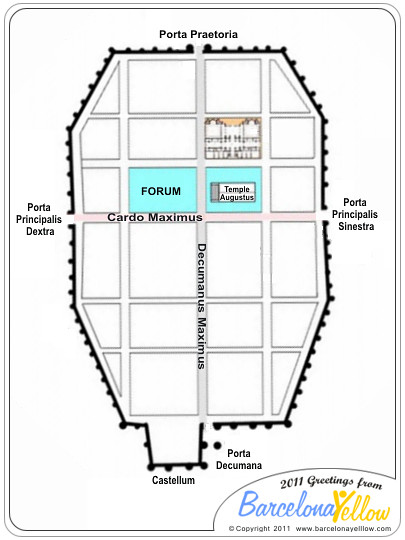 Plaça Nova. Here you can find sections of Roman wall which are 3.5 metres thick. The entire perimeter of the Roman walls of Barcina was 1270 metres. On Plaça Nova you can see two square towers from the second Roman city wall city dating from the fourth century AD. In the fifteenth century the "Casa de l'Ardiaca" the Archdeacon's house (in the left of the picture) was built on top of these walls. This building now houses Barcelona's historical archives in Arxiu Històric de la Ciutat de Barcelona.The Roman gate on Plaça Nova was called Porta Praetoria, which led into the street Decumanus Maximus. Later it was named the Bishop's Gate.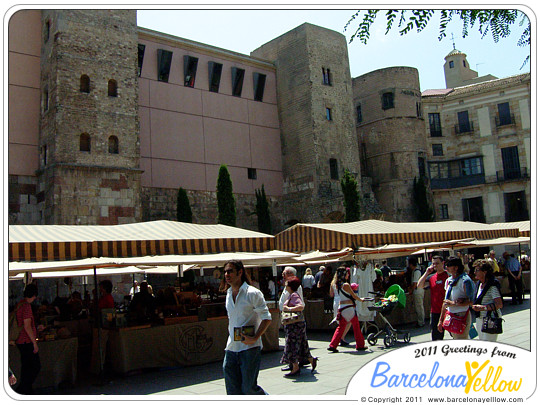 Plaça Nova. Roman aqueduct by the Porta Praetoria. The current arch of the aqueduct is a reconstrucion which was constructed to show where the Roman aqueduct entered the city of Barcino. If you want to see an original part of a Roman aqueduct, then head for Tarragona, which has impressive Roman ruins. Day tours to Tarragona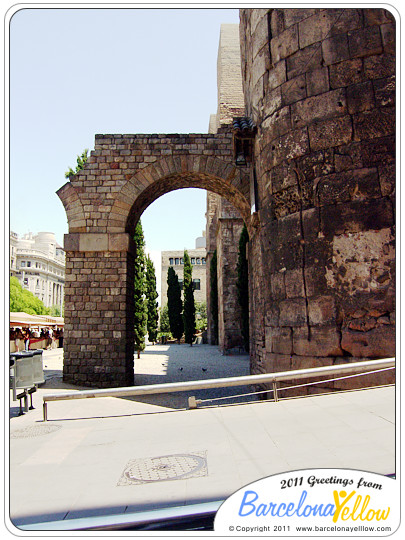 Carrer de Duran i Bas. Several arches of one of the two original Roman aqueducts which brought fresh water into Roman town of Barcelona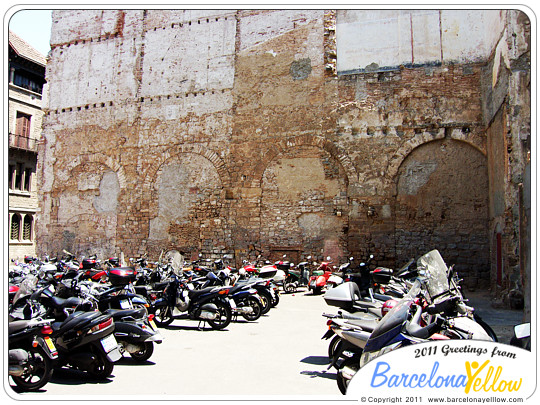 Plaça Vila de Madrid. Vía Sepulcral - Roman necropolis. This was the burial site of the Roman city of Barcino and there are seventy tombs visible dating from the second and third centuries AD. The Roman cemetery of Barcino was outside the Barcino city wall along the Roman road called Vía Sepulcral. This is now inside the city center and some of the tombs have been excavated and restored.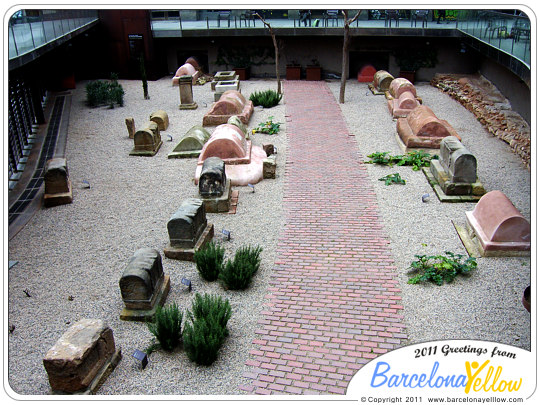 Roman tomb on Plaça Vila de Madrid in Barcelona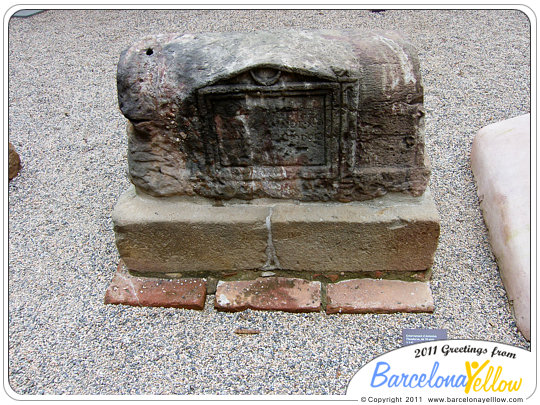 Baixada del Caçador. Remains of first Roman wall and tower from second Roman wall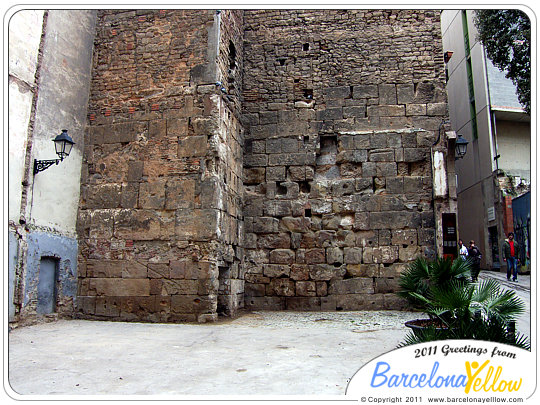 Day Tour Roman remains Tarragona near Barcelona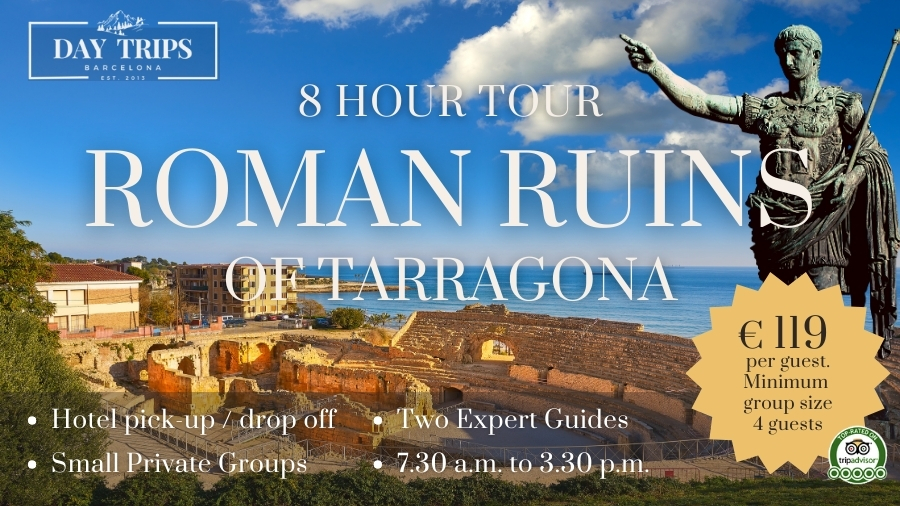 Carrer del Regomir, 3 - Pati Llimona. Part of inside of Roman walls from first century AD which was used to build the March family palace in the 14th century. These wall remains can be seen inside the Pati Llimona civic centre in Carrer del Regomir. The small gate was for pedestrians to enter the city.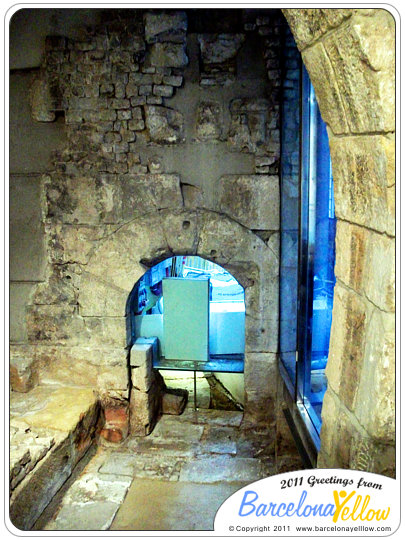 Plaça de Ramon Berenguer on Via Laietana. Roman walls and towers, which became part of the Capella Reial de Santa Àgata and Palau Reial Major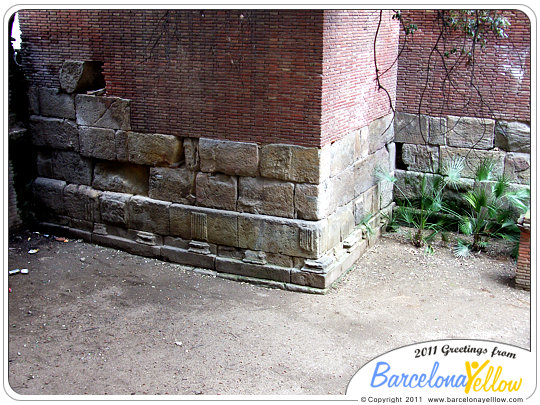 Barcelona Roman remains on Plaça de Ramon Berenguer by the street Via Laietana. This section of the Roman wall from the 4th century A.D. became part of Capella Reial de Santa Àgata i el Palau Reial Major (Royal Chapel of Santa Àgata and the Royal Palace) which was built in the 14th century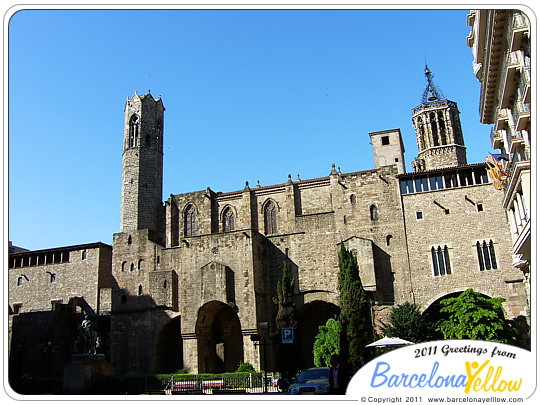 Barcelona Roman wall remains on Plaça de Ramon Berenguer by Via Laietana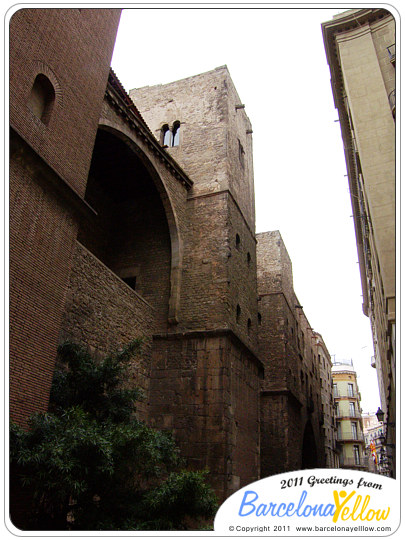 Roman wall in Barcelona on Plaça de Ramon Berenguer by street Via Laietana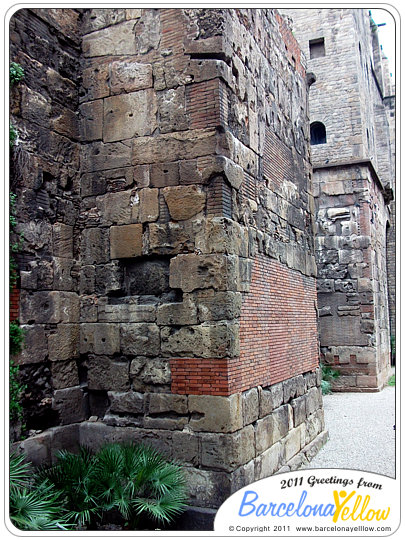 Carrer del Paradís 10-12. Four remaining columns of the Temple of Augustus which was located on Barcino's Roman Forum. These 9m high columns are actually inside the premises of "Centre Excursionista de Catalunya." The Temple of Augustus was built in the first century BC and was dedicated to Emperor Augustus. It was a hexastyle temple with 6 columns in front. The dimensions were 37 metres in length and 17 metres in width. Outside Carrer de Paradis 10 in Barcelona's gothic area, you can see a millstone that marks the location of Mont Tàber, which was the highest point of the Roman city of Barcino. Mont Tàber was a hillock just over 16 metres high.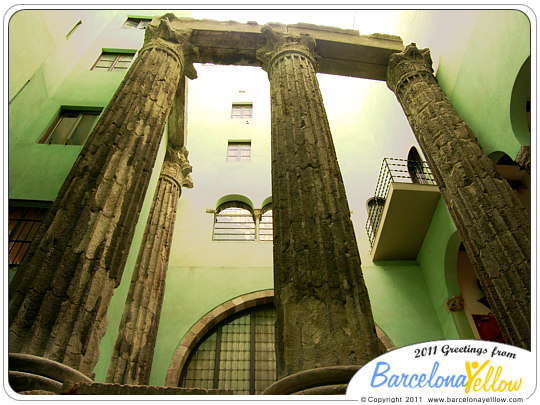 Artists impression of what the Temple of Augustus in Barcino looked like. The temple of the Roman colony of Barcino was in the Roman forum, which was the public square where all the important public buildings of Barcino were built. In modern day Barcelona this location is still where the government of Catalunya and Barcelona is situated 2000 years later. Other public buildings in Barcelona's Roman forum were the templte and the Curia, where the Ordo Decurionum (municipal senate) would meet.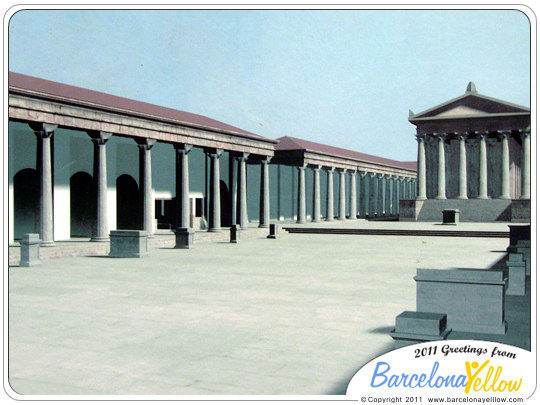 Plaça Traginers. Round Roman tower that was part of second Barcelona Roman wall built in 4th century A.D.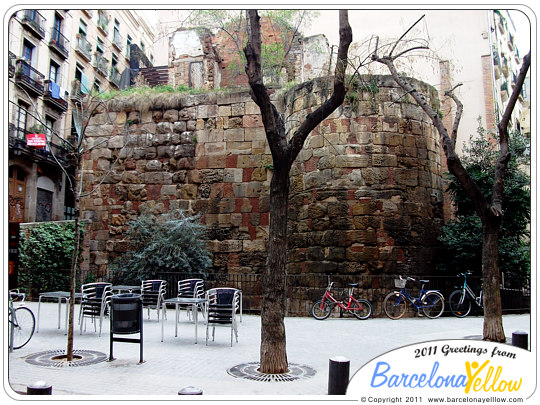 Map Roman walls Barcelona
More pictures Barcelona


© Copyright Barcelonayellow.com
All rights reserved.
Do not copy text or images on this page without permission



Last Updated on Saturday, 11 August 2018 13:34